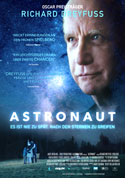 Opening 15 Oct 2020
Directed by: Shelagh McLeod
Writing credits: Shelagh McLeod, Carolyn Saunders
Principal actors: Richard Dreyfuss, Lyriq Bent, Krista Bridges, Colm Feore, Richie Lawrence
Angus (Richard Dreyfuss) is a 75-year-old retired highway construction engineer. He lives with his daughter Molly (Krista Bridges), her husband Jim (Lyriq Bent) and their son Barney (Richie Lawrence). Even in his seventies, Angus still dreams of flying into space like an astronaut. Millionaire Marcus Brown (Colm Feore) created the Ventura Spaceship, which he will send up into the atmosphere. He stages a contest to choose a passenger from 12 possible candidates. Naturally, Angus is on top of the game, seriously supported by his grandson Barney (Richie Lawrence) who helps him set up a telescope to view a rare comet. Will he be selected?
There are secondary topics, such as Angus suffering health problems, moving into a home for senior citizens, or befriending Len, who sits silently in his wheelchair. The construction of the airplane runway attracts Angus' professional attention. Molly has opinions; Jim loses his job.
Naturally. it's a pleasure to follow Richard Dreyfuss over his long film career, going way back to 1967. Remember American Graffiti, from 1973? However, my favorite character was grandson Barney, who is always cheerful, optimistic, and encouraging. He brought personality into a film which often seemed repetitious, even trite. I was happy that Molly and Jim shared a mixed-race marriage, something which should be a permanent part of our society and reflected in films. Director Sehlagh McLeod said that she came upon the idea for the film after visiting her own mother in an old folks' home. She believes that "seniors are too often forgotten, humiliated, and forced into silence," something which "does not reflect their real selves." (Becky Tan)


Second Opinion

Dreams are the stuff of good storytelling, so by extension, having a dream and not loosing sight of it over a long life span is even better. For Angus (Richard Dreyfuss), just about the only thing left to hang onto is his dream. The lonely widower, whose health is not what it was, is forced to live with his daughter Molly (Krista Bridges) and family. A good daughter, she oversees selling off Angus' property, while dispensing healthy doses of reality-checks to Angus even as tension rises between her and Jim (Lyriq Bent). Their son Barney (Richie Lawrence), however, is in seventh heaven studying the sky through Gramp's telescope as Angus explains star constellations. At Jim's urging, Angus is installed in a care facility; unsurprisingly, he and a motley group (Art Hindle, Graham Greene, Joan Gregson, Jennifer Phipps) gravitate to one another. Learning about billionaire Marcus Brown's (Colm Feore) space-flight lottery, and with a not-so-gentle push, Angus takes a chance. And, he dares to hope. Good things come to him who waits; except, rocks that turn the tide for Angus.
Co-writer-director Shelagh McLeod's debut feature film is a three-generation drama-comedy about stages of personal development from cradle to old age. McLeod had the good fortune to cast Richard Dreyfuss whose outstanding performance maintains the equilibrium in the narrative's themes that is supported by the captivating ensemble. Scott McClellan's cinematography is crisp, efficient with tantalizing music by Virginia Kilbertus. The film's takeoff and travel time is slow (Tiffany Beaudin edits), and the ride is sometimes bumpy due to snags in the storyline. Still, like the awesome thrill of watching a space shuttle lift-off, or that feeling when a dream comes true, Astronaut is imbued in a life-affirming hopefulness that promises a warm and fuzzy take-home memory. (Marinell Haegelin)