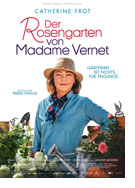 Der Rosengarten von Madame Vernet (The Rose Maker, La fine fleur)
France 2020
Opening 9 Sep 2021
Directed by: Pierre Pinaud
Writing credits: Fadette Drouard, Blandine Jet, Philippe Le Guay, Pierre Pinaud, Sara Wikler
Principal actors: Catherine Frot, Manel Foulgoc, Fatsah Bouyahmed, Olivia Côte, Vincent Dedienne
Eva (Catherine Frot) has inherited an enormous garden in Burgundy, France, from her father. It entails fields, gardens, and green houses, as well as her home. In the past, with the help of assistant Vera (Olivia Côte), she successfully grew roses and won prizes. However, this trend has taken a sharp turn, and for the last eight years she has been unable to create a new rose which could win the annual Golden Rose award. Her biggest competition is Constantin Lamarzelle (Vincent Defienne). Worse than the disappointment is her dangerous financial situation. How can she create the ultimately perfect rose and win first prize again? Vera surprises her with three new workers: Samir, Nadége, and Fred, who are part of a resocialization program which creates jobs for persons with few perspectives. They have no knowledge of gardening, but they do have experience in cheating and stealing. Could this be the answer? Eva must "borrow" genes from one of Mr. Lamarzelle's roses, called The Lion, in order to create the perfect rose. As they work together, Eva slowly learns more about the unfortunate life of Fred (Melon Omerta), but most important, she recognizes his unusual sense of smell, which is quite useful in identifying roses.
Filmed in Montagny, France, at the Maison Dorieux rose gardens, the film opens with the song "Red Roses for a Blue Lady" by Dean Martin and closes with the sentence "What's life without beauty?". There is the usual loneliness, crime, love, self-discovery, new expectations, and reevaluations; however, the roses play the leading role. Director Pierre Pinaud has selected an original idea for a story with over 13 different rose types listed in the film credits. When asked why he chose this specific topic, he said, "One day I learned, quite by chance, that breeding roses is a French specialty. Of the over 40 rose breeders in the world today, more than 20 come from France." I personally learned a new German word: Okulation or the verb okulieren, which translates to "graft or bud fruit trees or roses." This is the perfect film for anyone who enjoys working in a garden, big or small, or planting flowers on a balcony, or even taking a walk in a favorite park, such Hamburg's Planten un Blomen. (Becky Tan)


Second Opinion

France is often referred to as the perfume capital of the world. In southern France, specifically the Grasse region (Pays de Grasse), the soil, sun, and temperature nurture the natural ingredients essential for perfume – roses and flowers. Naturally, the French have the best "noses" in the world, and people with an extremely keen sense of smell are worth their weight in gold.
Having learned the art of roses from her father since childhood, Eve Vernet (Catherine Frot), once an award-winning rose producer, these days is consumed with staving off creditors and devising moneymaking ideas. She sidesteps her competitor's (Vincent Dedienne) offers to buy—the Vernet name is not for sell. Her devoted assistant Vera (Olivia Côte), loyally steadfast and honest, hires three non-horticulturists enrolled in a back-to-work program. Although unskilled, Samir (Fatsah Bouyahmed), Nadège (Marie Petiot), and Fred (Melan Omerta) want, and need, the work. Dauntless, Eve works tirelessly training them while keeping everyone's moral up. Until, to save her father's heritage Eve concocts a crazy scheme based on a tattoo. The three farmhands soon wholeheartedly endorse it, especially when good, kind Eve swaps tactical moves with them.
French director Pierre Pinaud and Fadette Drouard co-wrote the comedic, social-commentary screenplay that introduces the thornier side of roses, and the tangled world of perfumery. The superbly cast (Pierre-Jacques Bénichou, casting) ensemble's portrayals utilize perceptibly finessed farceur expressions and actions; no wonder we root for the scheme's success. The scent of roses is almost tangible in Guillaume Deffontaines' potently embracing cinematography that editors Valérie Deseine and Loïc Lallemand delightfully highlight. Alors, out of almost certain doom, and unexpectedly, mutual support, nurturing, and deeply felt friendships take root. That is the film's je ne sais quoi. (Marinell Haegelin)