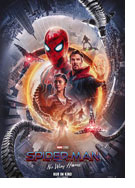 Spider-Man: No Way Home
U.S.A. 2021
Opening 16 Dec 2021
Directed by: Jon Watts
Writing credits: Chris McKenna, Erik Sommers, Stan Lee, Steve Ditko
Principal actors: Tom Holland, Zendaya , Benedict Cumberbatch, Jacob Batalon, Jon Favreau
Warning: This isn't just a movie. It's an experience. It's also one giant spoiler when talking plot. We try our best to avoid doing so here. That said, a little bit of storyline can go a long way in explaining why not just Marvel fans, Spider-Man buffs and Tom Holland groupies but everyone should go see this film.
"Spider-Man: No Way Home" opens with Peter Parker revealed as a superhero, picking up where the previous Spider-Man film (the 2019 blockbuster "Far From Home") left off. A fast-moving series of opening scenes gives viewers a clear sense that this film is about the pitfalls of both super-fame and conspiracy theories.
Peter Parker (Tom Holland) has just been outed as Spider-Man. He, his girlfriend M.J. (Zendaya) and his best friend Ned (Jacob Batalon) all are affected by the aftermath, and Peter is grappling with what to do about it. The trio's problems reach a crescendo when M.I.T., the renowned research university based in Cambridge, Massachusetts, rejects all three teen applicants. The admissions office cites the controversy about Peter's identity and the roles his buddies played in his super-adventures.
Enough has been made public leading up to the film's release that it's safe to say what happens next. Peter comes up with a plan. He asks fellow Avenger Dr. Strange (Benedict Cumberbatch) to make the world forget that he is Spider-Man. And, of course, that spell backfires. Why? Because Peter is who he is—a high-school senior who loves his friends and his Aunt May, what little family he has—and he doesn't want to lose them.
And then what happens? Let's just call it complications associated with the multiverse. We won't say any more than that. Because if we spoil one part, we'll spoil it all. That's just how the multiverse works.
Despite a lot of action and a lot of characters, even viewers who haven't watched the past 20 years of Spider-Man films will follow the plot easily. Anyone who read comic books as a child will rejoice that the filmmakers have pulled off a similar pace and style. And those more aware of the Marvel universe will closely watch Peter "growing up" throughout the film. Indeed, "with great power comes great responsibility," and this film is about Peter Parker learning what that means.
In short—and entirely without spoilers—our recommendation is to just go see the film. As soon as possible. And don't look at social media beforehand if you want the full experience. This film is cool and fun and traumatizing and interesting and sad and exciting. And nice. All at once.
What's more, it's big-screen fun. During our mutual viewing, on opening night in Hamburg, there were whoops, hollers, cheers and tears. The entire theater burst out yelling in joy multiple times. It was a film experience that we, at least, have NEVER had in Germany. And we have lived here a very long time. Go see it. Soon. (Deborah Steinborn)