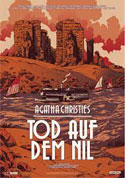 Tod auf dem Nil (Death on the Nile)
U.K./U.S.A. 2022
Opening 10 Feb 2022
Directed by: Kenneth Branagh
Writing credits: Michael Green, Agatha Christie
Principal actors: Tom Bateman, Annette Bening, Kenneth Branagh, Gal Gadot, Armie Hammer
What people will do in the name of love? Written in 1937, one of Agatha Christie's best-loved novels, Death on the Nile sails once again onto the screen. With Director Kenneth Branagh at the helm, the film opens with a memory of World War I filmed in black and white. It is a method that Branagh uses in his previous film Belfast (2021). The Belgian detective Hercule Poirot (Kenneth Branagh) saved the day on the battle front only to lose the love of his life. Now switching to color, Poirot sits in a Blues café, enjoying music and observing several vignettes that hold useful information later on. Now in Egypt, he is hired by a couple, Linnet Ridgeway-Doyle (Gal Gadot) and Simon Doyle (Armie Hammer), on a honeymoon, to keep everyone safe as the wedding party disembarks on the glamorous steamer Karnak. Tranquility abruptly ends when tragedy occurs. Detective Poirot now needs to use his little gray cells to solve a case where everyone is a suspect and no one is to be trusted.
The beauty of this film lies in the details of the work. Award-winning costume designer Francisco "Paco" Delgado López from Lanzarote, Canary Islands creates rich, elegant with the oriental flair outfits mastering a look of perfection. The scenes are brilliantly staged as we see Poirot watching his friend attempting to fly a kite while standing on the pyramids. It's hard to imagine that the film was made in Morocco and England and not in Egypt. So for those sleuths out there enjoy a sail down the Nile where you will encounter mystery jealously and betrayal all in the name of love. (Shelly Schoeneshoefer)


Second Opinion

Director-producer Kenneth Branagh, in collaboration with scriptwriter Michael Green and based on an Agatha Christie thriller, has added enough twists and reimagining (including characters backstories) to present a fresh approach on the Nile with unexpected modifications. As Hercule Poirot, Kenneth Branagh's head is distinctly round, hairy and his moustache thicker; Poirot gets a backstory that begins on a battlefield some years earlier where his keen sense of detail is demonstrated. By 1937—year Christie's eponymous book was published—the now renowned private detective Poirot is in a London jazz club, listening to Salome's (Sophie Okonedo) rich, throaty songs when, inadvertently, he sees 'act one' of a tragedy.
Moving along to River Nile, as Poirot admires the Egyptian pyramids, he is most fearsomely disturbed, only to discover dear friend Bouc (Tom Bateman reprising role from Murder on the Orient Express, 2017) the culprit. In swift order Bouc introduces Poirot to Euphemia (Annette Bening), and then at a wedding reception, Bouc points out who's who: the glowing couple, (stinking rich) bride Linnet (Gal Gadot) and groom Simon (Armie Hammer), Linnet's maid Louise (Rose Leslie), cousin (Ali Fazal) and godmother Marie Van Schuyler (Jennifer Saunders) with nurse (Dawn French). Some of Linnet's invited friends are physician Linus Windlesham (Russell Brand), the songstress Salome and daughter Rosalie (Letitia Wright), and Meredith Wilson (Ann Turkel). Everyone is in hight spirits until, uninvited and unannounced, Linnet's (former) best friend Jacqueline de Bellefort (Emma Mackey) appears – "Alas, act lll." Wherefore, Linnet hi-jacks Hercule as the group launch themselves to safer surroundings aboard the S. S. Karnak. When murder does occur, the group of suspects clam up; contrarily, the Belgium sleuth puts his "little gray cells" to work.
The sterling ensemble portray their characters with intonational shifts, impeccable timing and nuanced facial expressions and body language. Branagh brought on board the filmmaking team from Orient Express, chose locations Christie took inspiration from while writing the book in Egypt, plus chose classic Panavision® 65 film that cinematographer Haris Zambarloukos used to capture the golden vistas, pink-tinged sunsets, and burnished onboard splendors. Jim Clay (Production Design), Abi Groves (Set Decoration) and Amanda Willgrave (Florist), and Paco Delgado and JobanJit Singh (Costume Design) spectacularly recreate the lush 1930s aura with editor Úna Ní Dhonghaíle dexterously, concisely charting the course, accompanied by Patrick Doyle's music
English novelist and playwright Agatha Christie has been translated in more than 100 languages with her novels being the most published after the Bible and Shakespeare; Christie was made a Dame (DBE) in 1971. Her great-grandson James Prichard, chair-CEO of Agatha Christie Ltd. and Branagh (plus Disney through 20th Century) partnered well, sharing a vision of a "Christie" cinematic universe franchise. Considering Tod auf dem Nil, one of her 66 detective novels alone, as the first installment, Branagh's uniquely stylish, spellbinding storytelling vision promises absorbing fun adventures to come. (Marinell Haegelin)