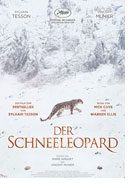 Der Schneeleopard (The Velvet Queen, La panthère des neiges)
France 2021
Opening 10 Mar 2022
Directed by: Marie Amiguet, Vincent Munier
Writing credits: Marie Amiguet, Vincent Munier

Vincent Munier observes wildlife in Tibet for the eighth time over the last 20 years. Usually alone, he has invited photographer Sylvain Tesson to accompany him in the hopes of viewing snow leopards in this winter season. They search through their telescope for a large cat with a long tail and white fur, spending hours lying on their stomachs and speaking to each other in whispers. They take photos, which is helpful, because often unseen animals only appear on film, due to the perfect camouflage blending them into their environment. Occasionally Munier and Tesson hike back to their isolated base camp in a valley near the settlement of nomads. They need to recuperate from long nights in the open, always discussing their impressions. They compare the intelligence of animals with humans, noting that humans gave up their freedom and self-reliance when evolving from the animal world. Do we ever see a snow leopard? Does it matter? Wait and see.
Sylvain Tesson has written about his experiences in his book, Der Schneeleopard. Vincent Munier has published his photos in a book written with Tesson, Zwischen Fels und Eis. The film is supported by excellent music composed by Warren Ellis with Nick Cave singing "We Are Not Alone." Tesson said, "Vincent gave me the gift of discovering the art of observation. Before, I was satisfied just to walk through the landscape. Vincent's relation to the world is different. He doesn't simply walk through; he waits, observes, and analyzes – until sometimes an animal appears in his lens." There is much to learn by watching Der Schneeleopard. It's as if we were also "stretched out" beside the two men, just as happy as they are to see other rare animals such as blue sheep, yaks, Tibetan sand foxes, and the Pallas's cat, as well as many different birds. Normally the photographer of a film never appears in the film itself. Here there should have been an exception. Marie Amiquet should have been represented with at least a photo and perhaps some quotes, considering the tremendous contribution she made to create such a beautiful documentary. Der Schneeleopard premiered in the 2021 Cannes Film Festival. (Becky Tan)


Second Opinion

The legendary wildlife photographer Vincent Munier's trip was planned when he invited good friend Sylvain Tesson, author (The Consolations of the Forest: Alone in a Cabin on the Siberian Taiga) and adventurer, to join him in a journey to Tibet's high plateaus in 2018 to investigate the unexplored flora and fauna in one of the few remaining remote, natural havens on earth. He was going after the snow leopard, one of the rarest members of the big cat family, which surprised Tesson who thought they were extinct. So for him it was a dream, but for Munier it was a rendezvous. Working with co-writer-director Marie Amiguet, "… a real director who's used to the wilds of nature," no wonder audiences are swept along on their majestic expedition in search of "the panther … bit of a Holy Grail" in The Velvet Queen.
The rugged beauty of the inhospitable terrain is breathtakingly spectacular. Local Tibetans assisted them as they make exploratory forays into the surrounding valleys, sometimes staying overnight and once sleeping in a cave. The two whisper whenever on the move outdoors to not disturb the uninhibited wildlife in their habitat; their conversations are salient, philosophical, and reminiscently nostalgic. Their notes include the scientific and common names plus sketches for the plant life and animals they come across. Yet always they pay particular attention to spotting the elusive snow leopard. Munier carefully nestles a camera in rocks at a dry ravine to catch nocturnal creatures; he faces down a rare wild yack, photographs a Tibetan fox after a tiny pika, and the two run for cover from a Tibetan brown bear with her cubs. Yet, perseverance and patience do pay off.
Also awesome is the four filmmakers' backstory: Amiguet and assistant director-cinematographer Léo-Pol Jacquot stealthily filmed Munier and Tesson on plateaus in eastern Tibet averaging 15,000 feet high with peaks 5,000 feet higher. They traveled twice to Tibet and stayed three weeks while enduring February temperatures that plummeted from 0°F to early morning lows of -13°F to film. Vincent Schmitt's succinct editing is accompanied by Nick Cave and Warren Ellis' original provocatively moving music. Der Schneeleopard proves that perseverance and patience not only pay off, but can inspire audiences with awe, wonder and respect. "Encountering an animal is rejuvenation." (Marinell Haegelin)