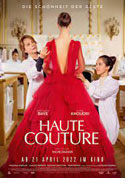 Haute Couture - Die Schönheit der Geste (Haute couture)
France 2021
Opening 21 Apr 2022
Directed by: Sylvie Ohayon
Writing credits: Sylvie Ohayon, Sylvie Verheyde
Principal actors: Nathalie Baye, Lyna Khoudri, Pascale Arbillot, Claude Perron, Soumaye Bocoum
The high-end exclusive haute couture fashion is, in essence, clothing custom-fitted and constructed made solely by hand from select materials with painstaking attention to the finishing details. French director Sylvie Ohayon and co-writer with Sylvie Verheyde chose the Dior Avenue Montaigne workshop for its backdrop, although Haute Couture – Die Schönheit der Geste is more about relationships than fashion. In particular, relationships among women – mothers-daughters, siblings, friends and colleagues.
Nathalie Baye plays Esther, the French fashion house's Head Seamstress; preparing her last haute couture collection before retirement she reflects on how her profession has consumed her life. Traveling to work her purse is snatched by young troublemaker Jade, a role Lyna Khoudri easily fills; she is bolstered by best friend Souad, played by Soumaye Bocoum. The girls, neighbors on a Parisian banlieue, hang out and support one another. After some hesitation, Jade finds a ruse to return the purse to Esther, thus the plot thickens and when Esther offers her an apprenticeship, Jade's curiosity overcomes her saying no. At the atelier Pascale Arbillot as Catherine is friend and confident to both women, just as Claude Perron as Andrée is watchful and nasty to Jade. Additional characters that add to the storyline are Jade's well-meaning friend Séphora, charmingly played by Romain Brau, Esther's mentor-friend Mme Crémieux benignly played by Claudine Vincent, and Farida Ouchani as Souad's hands-on mom, while Clotilde Courau plays Jade's aloof mom. As time passes the different personalities learn, or are forced by the situation, to readjust their perimeters for what is conscionable behavior.
Ohayon's ticklish relationship with her daughter Jade influenced the storyline's direction plus her interest in the haute couture artisanship, and respect for France's workforce meritocracy. Production values are good: Georges Lechaptois' cinematography, Mike Fromentin's editing, Pascal Lengagne's score; costume designer Justine Vivien with the Dior Héritage archive was technical advisor and taught the actresses the feel of quality fabrics and the gestures seamstresses innately use. Dior ateliers today are clinically bright, but Ohayon chose to reflect France's golden early days of haute couture in the film. The House of Dior and Channel helped the director's research.
Subtleties are woven into the fabric of the film worth watching for: Jade's wardrobe; Esther's wise words, "Everyone talks about work; I want to give you a profession;" friends' petty jealousies and then overriding loyalty; family ties, and then bonds that are stronger than blood; Esther's phone call toward the end. As stitched into Haute Couture's title, it is "The beauty of the gesture," that counts. (Marinell Haegelin)


Second Opinion

Esther (Nathalie Baye) is on her way to work at the fashion industry Christian Dior in Paris. She arrives without her purse, which has been stolen while observing a young girl playing a guitar (which was also stolen). The thief is Jade (Lyna Khoudri) who has a guilty conscience after finding a Star of David necklace in the purse. Since she has Esther's address, also in the purse, she visits her at Dior to return it. Esther decides to give Jade a chance to leave her criminal environment and work at Dior. Esther, who smokes a lot and has diabetes, will soon retire. Her co-workers Catherine and Gloria incorporate Jade within their team. Another co-worker, Andreé, is skeptical, especially after she sees Jade steal some Dior perfume.
The main storyline revolves around relationships between mothers and daughters. Esther has lost contact with her own daughter due to her work. What was Esther's relationship to her own mother? Is Jade a substitute daughter? Does Jade need a substitute mother? Her own mother demands 24-hour care due to depression. Can Jade become independent from her mother? The mother-daughter relationship is a rather conventional topic. Here, the real attraction is haute couture, a French term which means high dressmaking, i.e., creating fashions by hand. In this case the dresses are all white to be worn at parties, dances, or weddings. Actress Nathalie Baye said that she received sewing instructions, for this role because she "can hardly sew on three buttons in a row." Outstanding supporting actors are Adam Bessa who is Abdel, a boy who also works at Dior, and is attracted to Jade, as well as Soumaye Bocoum who plays Jade's best friend Souad. I was so thrilled to see the film, since, by chance, I was reading the autobiography of Wolfgang Joop, also a well-known fashion designer. Book and film shared several topics. For example, there is a pre-coll, or pre-collection, party before the models go on the runway. The film quote "A dress begins to live when it is worn" could also pertain to the book. In both book and film, cloth is rolled up on cardboard and stacked away. The word "geste" in both French and German could refer to a sign of friendship, as well as "a nice touch," both evident in different versions throughout. Seen in French, the German subtitles were sometimes too long to read before disappearing into new subtitles, which requires disciplined attention. (Becky Tan)