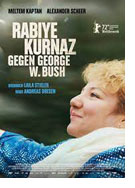 Rabiye Kurnaz gegen George W. Bush (Rabiye Kurnaz vs. George W. Bush, Rabiye)
Germany/France 2022
Opening 28 Apr 2022
Directed by: Andreas Dresen
Writing credits: Laila Stieler
Principal actors: Meltem Kaptan, Alexander Scheer, Charly Hübner, Nazmi Kirik, Sevda Polat
Rabiye Kurnaz (Meitem Kaptan) lives with her Turkish husband Mehmet (Nazmi Kirik) and sons Cem and Atilla, in Bremen. The oldest son Murat (Abdullah Emre Öztürk) has left the family to attend a Koran school in Pakistan, where he hopes to become more acquainted with his Muslim religion. There, circumstances cause him to be sold to the United States, where, on January 30, 2022, he is locked up in its well-known prison: Guantanamo. His mother Rabiye refuses to accept this impossible situation. Together with lawyer Bernhard Docke (Alexander Scheer) she examines the legal possibilities and petitions courts, all the way to Washington D.C., even speaking before the US Supreme Court. Germany accepts no responsibility because Murat does not have German citizenship. The USA is no help. After five years spent in prison without ever having been presented with grounds for prosecution, Murat is released on August 26, 2006. Throughout the film Rabiye comes into contact with other families attempting the release of relatives.
The film begins October 3, 2001 (shortly after the attack on the World Trade Center in New York City). We experience the terms "equal justice under law" and "writ of habeas corpus." No problem if the two-hour film seems repetitive, considering that we watch the same people apply the same methods for Murat's freedom over five years, never giving up, always coming back.
Filmed mostly in Bremen in Turkish, English, and German, it won two prizes at the 2022 Berlinale Film Festival: best leading performance to Meltem Kaptan, and best screenplay to Laila Stieler. Photos of the original family appear in the credits and Kaptan looks very similar to Rabiye Kurnaz, as do the others: the lawyer, the children, Murat when he leaves prison, etc. I wondered why the father, Mehmet, didn't take responsibility to fight for his son's release. His wife Rabiye was the more forceful of the two; Mehmet seemed to be satisfied to take care of the younger sons and the household and expect praise for his work. The film reveals the situation according to Rabiye's experiences.
Murat Kurnaz's autobiography Fünf Jahren meines Lebens, which came out in 2007 and is now in its third edition, presents his experiences in Guantanamo. Together film and book present a complete picture. Do we ever meet-up with George W. Bush? See the film and follow the news. Today at least 39 people are sitting in Guantanamo without a court decision or legal justification. (Becky Tan)