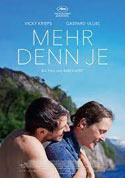 Opening 1 Dec 2022
Directed by: Emily Atef
Writing credits: Emily Atef, Lars Hubrich
Principal actors: Vicky Krieps, Gaspard Ulliel, Bjørn Floberg, Sophie Langevin, Valerie Bodson
It's obvious from the opening scenes of Mehr denn je that something is troubling Hélène (Vicky Krieps). She and her partner Mathieu (Gaspard Ulliel) attend a dinner party at a friend's house, but Hélène is uncomfortable and feels like her friends are behaving strangely around her. It becomes clear that Hélène is seriously ill, and her only chance for survival is a difficult process that may work if they can find a matching donor. As Hélène grapples with her illness, she discovers a blog by a Norwegian man (Bjørn Floberg) who also has a serious illness. After forming a connection with "Mister", she decides to travel to Norway. And Hélène is determined to make the long journey north from their home in Bordeaux alone, despite Mathieu being completely against the idea. Surrounded by the breathtakingly beautiful natural scenery of Norway, Hélène contemplates how she wants to live her life. When Mathieu joins her, they must decide how each of them uses the time they have.
Mehr denn je is a slow and quiet movie that addresses the biggest topics we deal with in life – love, death, human connection, loss, freedom, and choice. The movie is melancholic but never depressing or bleak, and it's filled with beauty, from the Norwegian fjords to Hélène and Mathieu's gorgeous young bodies. In this balance of mournfulness and joy, director Emily Atef has created a delicate and memorable work of art. (Diana Schnelle)


Second Opinion

Hélène (Vicky Krieps) and Mathieu (Gaspard Ulliel) are a long-term couple, living in Bordeaux, France. Sadly, Hélène is suffering from IPF or idiopathic pulmonary fibrosis. She finds it hard to breath; Mathieu tries to find a donor for a lung transplant. Looking for suggestions on the internet, Hélène begins communicating with Mister, who also is known as Bent (Bjørn Floberg). He is also mortally ill, lying in a hospital in Norway. Their communication inspires Hélène to plan a trip to his town of Sæbø, her first ever independent decision. Mathieu is not amused. She follows her instincts and takes the train and the boat to Norway, and meets Bent, whom she recognizes from his online photos. She moves into a small cabin on a lake. Phone reception is difficult, which brings Hélène out into the area, to take long walks. to keep in touch with Mathieu. In the cabin she finds it difficult to sleep and ends up moving closer to Bent, who has refused any kind of terminal aid, saying, "Death is part of life." Mathieu visits her but realizes that he no longer has any influence, and after a conflict with Bent, returns to France. Unable to breathe, she is alone on the coast of a lake surrounded by mountains – an environment that is forever – unlike life.
Two hours is a long time to watch a film about dying. Luckily it picks up after a slow 30 minutes and we learn from Bent that "The living don't understand the dying." This is practically a three-person film, featuring excellent actors. Sadly, actor Gaspard Ulliel died shortly after filming, the result of an accident. Director Emily Afef said she is interested in researching "How can we find our own way to accept sickness and death," something she needed to attempt since her own mother suffered from multiple sclerosis and cancer, dying in 2015. Mehr den je premiered at the 2022 Cannes Film Festival. (Becky Tan)