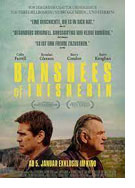 Opening 5 Jan 2023
Directed by: Martin McDonagh
Writing credits: Martin McDonagh
Principal actors: Colin Farrell, Brendan Gleeson, Kerry Condon, Pat Shortt, Barry Keoghan
The end of a life-long friendship is always a tragedy; perhaps even more so when it occurs in a small, tight-knit community like that of the fictional island of Inisherin on the west coast of Ireland. Everyone knows everyone there and as the community is so small, there aren't many options for socializing. When Colm (Brendan Gleeson) decides one day that he no longer wishes to interact with his long-time best friend Pádraic (Colin Farrell) due to the latter's utter dullness, life on the island begins to go sideways.
There is much to appreciate in The Banshees of Inisherin, with its superb cast, understated screenplay, and beautiful cinematography. It's a joy to see Gleeson and Farrell together again and Kerry Condon is an utter delight as Siobhan, Pádraic's sister and the sole voice of reason in the town. Likewise, Barry Keoghan continues to be one of the most intriguing actors of his generation with his off-putting portrayal of the disturbed son of the local policeman.
It is notable that the story takes place in 1923, at the height of the Irish Civil War when the country was split between the pro-treaty Irish Free State and the anti-treaty Irish Republican Army (IRA). The events are referenced a few times throughout the film and while the allegory is not particularly hammered upon, it is rather easy to draw parallels between two former friends on a small island fighting over inanities and the larger ideological war occurring on the Irish mainland. Still, largely The Banshees of Inisherin is more focused on examining the ramifications a small act can have in a small community.
With its top-notch acting, scenic beauty, and clever script, there is something to appreciate here for any lover of understated black comedies. However, like many of McDonagh's previous works, it certainly leaves a lasting melancholic feeling long after watching and is certainly not suitable for those looking for a light film to lift spirits. The Banshees of Inisherin is funny, sometimes bizarre, and very often meaningful and will certainly go down as one of Martin McDonagh's best movies. (Rose Finlay)