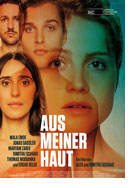 Opening 2 Feb 2023
Directed by: Alex Schaad
Writing credits: Dimitrij Schaad, Alex Schaad
Principal actors: Mala Emde, Jonas Dassler, Dimitrij Schaad, Maryam Zaree, Thomas Wodianka
Does the soul really exist? If our mind and body were separated, how much of what truly makes us who we are would remain? These are some of the questions raised by the intriguing new German production Skin Deep. We are introduced to Leyla (Mala Emde) and Tristan (Jonas Dassler) who are offered the chance to undergo a transformative two weeks where their minds and bodies will be swapped with another couple. Soon, it is revealed that Leyla suffers from a debilitating depression and where she finds the body-swap experience an extreme relief from her mental illness, Tristan finds it discombobulating. Conflict arises when Tristan seeks to end the experience early, sending Leyla into a desperate spiral.
Skin Deep takes place in an alternate reality where body-swapping is considered to be a slightly abnormal transcendental offering of a spiritual retreat, rather than an utterly mind-blowing feat of science. Accepting that is relatively easy, but as the film goes along, the premise begins to feel a bit shaky. In the opening of the film, we are introduced to the reality that this procedure can have its downsides, and yet it seems that even after many years, there have been no protocols put in place, no questionnaires for the participants, nothing. On the one hand, the film wants us to understand that this procedure has its risks, but on the other, it seems that no one (not even the government) has felt the need to practice any ethical precautions. It lends the film a rather underbaked quality which is really unfortunate.
Also, it is a bit bizarre that no one has suggested other solutions to Leyla's mental illness nor seems concerned about the impact such a procedure might have on her. Has she tried therapy? Medication? Anything? Tristan tellingly seems to have written her suffering off as Leyla simply having a tough time for a few years (despite seeing her withdraw from all of the things she previously enjoyed). Is this somehow a representation of the German attitude towards mental health? It is easier to conceptualize swapping bodies than recognizing depression and seeking appropriate medical support?
While Skin Deep is a high-quality production with an intriguing premise, something is left to be desired in the final product. There were missed opportunities throughout to make some profound points about philosophical questions, and the ending is contrived and unsatisfying. Nevertheless, it is largely an enjoyable film that certainly makes you wonder, who would I really be if I were no longer in my own body? (Rose Finlay)