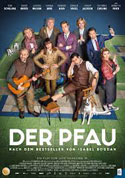 Opening 16 Mar 2023
Directed by: Lutz Heineking
Writing credits: Isabel Bogdan, Christoph Mathieu, Sönke Andresen, Lutz Heineking
Principal actors: Philip Jackson, Victoria Carling, Peter Trabner, Linda Reitinger, Domitila Barros
Linda Bachmann (Lavinia Wilson), as well as David, Andreas, Jim and Bernhard (played by David Kross, Tom Schilling, Jürgen Vogel and Serkan Kaya in that order), are Frankfurt colleagues in the field of investment banking. They meet in the Scottish Highlands for a seminar in Macintosh Castle, which belongs to Lord Hamish and Lady Fiona (played by Philip Jackson and Victoria Carling). Two other inhabitants are Lord Hamish's peacock which goes wild at the sight of anything blue and Lady Fiona's goose. The businesspeople expected to meet up with Vincent Berger, but Rebecca (Serkan Kaya) arrives as his substitute. She settles down with the five colleagues to discuss changes in their work. Helen (Annette Frier) cooks for everyone.
And that's it. The peacock doesn't survive more than 10 minutes into the film, perhaps to land on the dinner table in curry soup. We experience short introductions to the four businessmen's private lives. David is gay, spends time in the kitchen, and says he and his husband want to adopt a child. Andreas calls his children often, loves his family which is the "best, most important thing in life," and wants to learn how to play the game of Clue. Jim sings and plays the guitar. Bernhard falls out of a top bunk bed.
Der Pfau (The Peacock) is based on a book of the same name by Isabel Bogdan. She and director Heineking Jr. visited our press showing. Heineking said at first the book was considered to be "unfilmable," but he pushed forward and made slight changes in agreement with Bogdan, who said that she feels that Heineking Jr. understood her version in spite of the film modifications.
Luckily, I experienced interesting German actors and appreciated the beautiful environment of a Scottish castle. Otherwise, I sat 106 minutes, wondering "why am I watching this film? Why should I care about any of these people?" The plot did nothing to pull in the viewer. Perhaps I should read the original book version; perhaps then I could discover where the story goes and why. Also, why did three of the four male bankers wear suits and ties the entire time? They are in a castle in the woods! Filmed in Cologne, Germany, and Scotland. (Becky Tan)