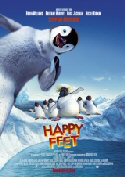 Opening 30 Nov 2006
Directed by: George Miller
Writing credits: Warren Coleman, John Collee
Principal actors: Elijah Wood, Brittany Murphy, Hugh Jackman, Nicole Kidman, Hugo Weaving
"Don't ever, ever lose the egg." That is the highest priority among Emperor penguins. Father Memphis is not so lucky and his egg escapes him during the long, dark arctic winter. The result is a learning-impaired son named Mumble who can not sing like all the other penguins. Instead, he has an annoying tic of shuffling his feet uncontrollably. His cheerful disposition, courage and optimism are not enough to be accepted. Even his open-minded schoolmate Gloria rejects him after he tries her patience. Noah, the clan elder, bans him, but he is not lonely for long. He meets Los Pinguinos: five Adelies penguins named Ramon, Nestor, Rinaldo, Lombardo, and Raul, who admire Mumble for his happy feet since they are also full of rhythm. The six friends are concerned about the low fish supply and consult Guru Lovelace. He is no help, but joins them in their search for answers which takes Mumble far, far from home.
Director George Miller (Babe) has made an amazing animated movie. He denies that he was inspired by March of the Penguins, but got his idea to work with animated penguins after watching a BBC documentary called Life in the Freezer. There is much to praise such as 42 popular and wonderful songs from oldies (Rodgers and Hart) to top hits (Elvis, Prince, Queen) to rap – many of them sung by the talented actors who also voiced the characters, such as Nicole Kidman, Hugh Jackmann, Robin Williams, and Brittany Murphy. Mumble (if you haven't already guessed) is a world-class tap dancer and his choreography, literally his every movement, was created by that NYC world-class tap dancer Savion Glover. Anyone who has seen Glover, will recognize him in this cartoon animal, created by cutting edge digitalization called Motion Capture technique. No wonder there are 1000 names on the list of credits.
There are many messages and parodies – perhaps too many, which is the reason this isn't a five-star film. One message, obviously, is that people should be true to themselves. Also, humans are destroying the environment (over-fishing, glaciers melting) although here they see the light, unlike the evil humans in Over the Hedge. There are many means of communicating and everyone, no matter how different, has a niche (much like the melodious communication in Close Encounters of the Third Kind).  There are many cultures in the world, as seen through various kinds of dancing, e.g., tap, flamenco, Riverdance, Zulu, etc. The parodies such as Elvis, Marilyn Monroe, and TV preachers are on target.
I recommend Happy Feet to anyone nine years or older, since it rather long (108 minutes) and sometimes goes off on tangents. Don't miss it, even if you have to make do with the German version; the dubbing is quite good and features two German stars, Ben Becker and Rick Kavanian. (Becky Tan)