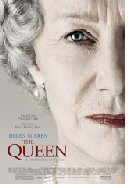 Opening 11 Jan 2007
Directed by: Stephen Frears
Writing credits: Peter Morgan
Principal actors: Helen Mirren, Michael Sheen, James Cromwell, Sylvia Syms, Alex Jennings
It is daring to make a feature film involving such a public figure as the Queen, choosing a subject already covered extensively by the press. But one of Britain's most distinctive directors Stephan Frears (My Beautiful Laundrette) did not shy away from provocation. As this film was first shown in London about 20 attorneys were sitting in the audience.
The news of Princess Diana's tragic death after a car crash in Paris shocks not only the British Nation but the whole world on September 1, 1997. We take a glimpse behind the curtain, namely learning about the Queen (Helen Mirren) and her family in their private surroundings as they are woken up in the middle of the night to be told about the accident and watch the TV news huddled up in their nightgowns. I loved the scene with James Cromwell as Prince Philip when he mumbles: "Move over cabbage…" swinging into bed with his sleeping wife, the Queen.
Despite the seriousness of events, this film is hugely entertaining and the characters are very convincingly portrayed. The tragic death of Diana throws the Queen into a family crisis. The developments around her are confusing and she is unable to comprehend the public's emotional response for the lost princess. Tony Blair (Michael Sheen), the up and coming Prime Minister, is voicing his opinion in a rather "modern" way. His household on Downing Street with young children and refreshing Cherie (Helen McCrory) add another humorous touch and are contrasting with the stiff atmosphere at Buckingham Palace where tradition and rigid protocol seem to keep everyone in a time warp. Blair, gaining in popularity, urges the Queen to take action in order to avoid constitutional damage. Reluctantly she agrees to a public appearance and finally agrees to a state funeral. To her absolute horror the mourning guests will not be Heads of State but Diana's friends from all walks of life, in particular from show business.
Helen Mirren as Queen is superb. She even looks a bit like the Queen but it is her acting, her body language, her attention to small gestures that are totally convincing. In 1995 she received the Best Actress Award at Cannes for her performance as Queen Charlotte (The Madness of King George). (Birgit Schrumpf)