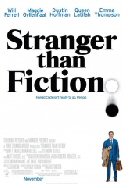 Schräger als Fiktion (Stranger than Fiction)
U.S.A. 2006
Opening 8 Feb 2007
Directed by: Marc Forster
Writing credits: Zach Helm
Principal actors: Will Ferrell, Maggie Gyllenhaal, Dustin Hoffman, Queen Latifah, Emma Thompson
Eccentric, neurotic Karen "Kay" Eiffel (Emma Thompson), a famous writer, is stuck with the ending of her latest book. The hero must die like all the main characters in her previous novels, but what death to choose this time? Standing on top of her working table, her toes over the edge, she contemplates kicking the hero Harold Click (Will Ferrell) off a skyscraper. The publishers send resolute Penny Escher (Queen Latifah) to help as she has previously helped many authors with writer's block. Kay is not convinced but Penny puts her foot down, announces her rules and takes over.
Neither woman knows that Harold Click is real, alive and healthy. He is a very conscientious, stiff and shy tax collector. His life is determined by his wristwatch; he has never missed one day of work. One morning, a woman's voice in his head announces he will soon have to die and his life changes suddenly. Desperately he is looking for help to change his proposed fate. He talks to his colleague and only friend and to various doctors, "No, I am not schizophrenic, I just have this voice in my head commenting on my daily actions, like brushing my teeth or catching the bus, but with an excellent choice of vocabulary." At long last he finds the unconventional professor of literature, Jules Hilbert (Dustin Hoffman), whosuggests finding out whether he is involved in a comedy or a drama.
While Harold struggles to influence the story teller in his head, Kay and Penny are perfecting their killer instinct by spending hours in the rain, imagining Harold in a car accident, drowning. But instead, his real life becomes more colourful. His new client is gorgeous, tattooed and anarchistic Ana Pascal (Maggy Gyllenhaal), owner of a little café. She has never in her life paid taxes, does not intend to do so in future and, therefore, never kept any records. His curiosity and fascination take over and he falls in love. He buys a guitar, stays off work and is happy, convinced that he has escaped his fate. Little does he know that Karin Eiffel is still plotting.
Stranger than fiction is indeed strange – but what a wonderful film by director Marc Forster: funny, intelligent and clever, with weird ideas but also with depth. Each one of the actors is perfectly cast and a delight to watch as this subtle comedy/drama develops. It may also inspire you to think of the chances to influence life with your own actions or to just go on ticking like Harold's wristwatch. (Birgit Schrumpf)