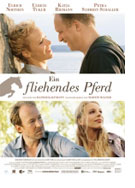 Opening 20 Sep 2007
Directed by: Rainer Kaufmann
Writing credits: Ralf Hertwig, Kathrin Richter, Martin Walser
Principal actors: Ulrich Noethen, Ulrich Tukur, Katja Riemann, Petra Schmidt-Schaller
Martin Walser's novel Ein fliehendes Pferd (published in 1978) is still one of the best-selling works of contemporary German literature, translated into many languages. With the background of a well-praised book by one of Germany's foremost writers, the young director Rainer Kaufmann (born 1959) faced no easy task. He successfully transformed the story (script Ralf Hertwig, Kathrin Richter) into a moving, intelligent, humorous and modern film.
Teacher Helmut Halm (Ulrich Noethen) complacently sits under a shady tree in the local lido with book in hand and casually observes his surroundings. His eyes keep returning to the tattooed shoulder of a young, slender blond, whilst half-heartedly listening to his wife's invitation for a swim in the lake. Helmut never swims; he does not like for his feet to lose contact with solid ground. He needs to be fully in control, watching is quite enough for him. For 12 years he and his wife Sabine (Katja Riemann) have spent their vacations here. It is a quiet place; nothing unexpected happens. His musings are noisily disrupted when Klaus Buch (Ulrich Tukur), a long-forgotten school friend, charges towards him with open arms, a big smile lighting up his well-meaning face. Helmut is not a bit pleased to see him and nervously tries to shrug him off. The next surprise follows. The slender blond is hanging on Klaus' arm, unashamedly kissing and seductively cuddling up to him. Helmut is still looking on sheepishly when his wife Sabine returns from her swim, surprised to see her husband in the company of the gregarious couple. She is even more surprised when Klaus tells hilariously funny stories of Helmut's school days. "All lies!" is his angry but embarrassed reply.
Helmut is annoyed and irritated by Klaus' invasion, by his permanent high spirits, his jokes and constant need for activities, including sailing. But sensual Sabine's curiosity is aroused. Is there another, hidden side to her husband? She enjoys spending time with this lively couple. Klaus Buch is good fun; he pays her complements and makes her laugh. Her husband's sulky mood seems to change too. He cannot take his eyes off Helene (Petra Schmidt-Schaller), the gorgeous blond with an alluring charisma who admires his knowledge of books and his love for the world of birds. It sizzles with erotic emotions leading to refreshingly comical scenes. Helmut's secure world seems to crumble. His days become disturbingly turbulent. It is not just a breeze freshening up the routine of his marriage. When Helmut and Klaus are caught in a raging storm while sailing on the lake, emotions reach a peak and the events take a surprising turn.
Rainer Kaufmann has carefully chosen his very able and experienced actors, which are among the best one can find in Germany, including the superb newcomer Petra Schmidt-Schaller as Helene. The film is evenly carried by the four actors, making it an enthralling, erotic-frivolous but sensitive comedy with good dialogues. (Birgit Schrumpf)