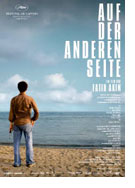 Auf der anderen Seite (The Edge of Heaven)
Germany/Turkey 2007
Opening 27 Sep 2007
Directed by: Fatih Akin
Writing credits: Fatih Akin
Principal actors: Nurgul Yesilcay, Baki Davrak, Tuncel Kurtiz, Hanna Schygulla, Patrycia Ziolkowska
Hamburg-born Turkish director-writer Fatih Akin's new film The Edge of Heaven (the German title translates as On the Other Side) was first shown at the Cannes Festival 2007 and brought him the prize for best script as well as a prize from the Ecumenical Jury. This second film of his trilogy "Love, Death and Devil" is very different from Head-On (Gegen die Wand). It will appeal to a different – probably even larger – audience as it is more sophisticated and touches on a range of topics. Cameraman Rainer Klausmann did a wonderful job with his "stills" of the rural Turkish landscape and the the different cities.
The film opens – and ends – with Nejat (Baki Davrak), a Turkish university professor sharing a humble flat with his immigrant father Ali (Tuncel Kurtiz), a widower in his seventies. Ali regularly visits Hamburg's red light district, where he befriends the prostitute Yeter (Nursel Köse), who happens to be a Turkish-Moslem. As Yeter is threatened by two fundamentalist countrymen who don't approve of her trade, she accepts the old patriarch's offer of moving in with him and his quiet, withdrawn son Nejat. This decision does not bring her luck. During an argument Ali hits her, resulting in her accidental death. Ali lands in prison. Nejat, now totally estranged from his father, decides to look for Yeter's daughter in Istanbul, who thinks her mother is working in a shoe shop. After Yeter's sudden death he wants to take over and continue to pay for the daughter's university education as a kind of reparation.
The second part of the film introduces Yeter's daughter Ayten (Nurgül Yesilcay), a political activist on the run. After witnessing the arrest of her comrades, she heads straight for a plane to Hamburg (whilst Nejat is travelling in the opposite direction). She meets well-off college student Lotte (Patrycia Ziolkowska), who takes her home to conservative and disapproving mother Susanne (Hanna Schygulla). The two girls become lovers. Ayten, still looking for her mother, is searching Hamburg's shoe shops. When stopped by a traffic control, she is arrested and has to return to Turkey, where she is promptly imprisoned. Lotte is devastated but determined to free Ayten and follows her to Istanbul. Here she bumps into Nejat, who has found his new destination selling German books in his own little shop. Lotte spends her days struggling with Turkish bureaucratic procedures. At long last she receives a permit to visit Ayten in prison and the disaster takes its course, ending with her – accidental and shocking – death.
A grieving mother Susanne arrives in Istanbul, following the footsteps of her daughter, and finds Nejat in his bookshop. When Ayten is finally released from prison, the militant rebel and the motherly Susanne are joined in their mutual sorrow. It is a touching rapprochement of the two very different women. Hanna Schygulla (of Faßbinder fame) gives a quiet but emotionally strong performance, adding a special quality to her role.
Despite all tragedy, the film is focused on a positive look on life, forgiveness and love. Above all it is a very human film, free of all judgment and patronizing attitude. The characters are portrayed with great empathy by the outstanding cast, where small gestures often give away deep emotions. (Birgit Schrumpf)