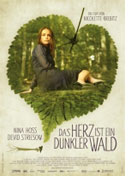 Das Herz ist ein dunkler Wald
Germany 2007
Opening 27 Dec 2007
Directed by: Nicolette Krebitz
Writing credits: Nicolette Krebitz
Principal actors: Nina Hoss, David Striesow, Franziska Petri, Marc Hosemann, Monica Bleibtreu
Who knows what suppressed desires and needs are hidden in another person's heart – even in your husband's? Marie has to find out the hard way.
Marie (Nina Hoss), Thomas (Devid Striesow), and their two small children live a normal, comfortable life in a Hamburg suburb. Thomas, a musician, leaves for work every morning; Marie stays behind with the children – nothing unusual, except that Thomas leaves his home only to head for a similar house ten minutes away, where another woman awaits him. This is surely not considered normal. One morning, a silly joke of Thomas' little daughter causes unsuspecting Marie to chase after her husband, thus discovering his secret double life. She is devastated. Within seconds her world slips from under her feet, leaving her emotionally paralysed and helpless.
Why? Who is to blame? Finally, her curiosity and pride make her follow Thomas to a costume party in an old castle where he is engaged as a musician. By and by she finds out that her husband is leading a life completely foreign to her. When she confronts him, he angrily defends himself and calls her selfish. Does she know what his needs are? Did he ever want children? Their uncontrolled exchange of words is disrupted when a fire breaks up the party. A dazed Marie quietly walks away into the surrounding woods, followed by the gigolo Jonathan (Marc Hosemann). When a new morning dawns, Marie walks out of the forest having made her decision.
Versatile actress Nina Hoss plays her role courageously and is sensitively guided by director Nicolette Krebitz, who also wrote the script. Other actors are Günther Maria Halmer, Monica Bleibtreu, Otto Sander, Franziska Petri and Angelika Taschen. Producer is Tom Tykwer for X Filme in cooperation with NDR. (Birgit Schrumpf)