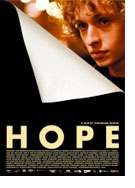 Opening 17 Jan 2008
Directed by: Stanislaw Mucha
Writing credits: Krzysztof Piesiewicz
Principal actors: Rafal Fudalej, Wojciech Pszoniak, Kamila Baar, Zbigniew Zamachowski, Zbigniew Zapasiewicz
This is a quiet film with long shots of beautiful details hinting at symbolism, like wooden doors or iron gates opening and closing. Movements and actions are slow, but minutes into the film there is no doubt, I am watching a very tantalising thriller.
What is Francis (Rafal Fudalej) hoping for? This angelic-looking young man with an abundance of blond locks framing his serious face is concentrating on filming the theft of a precious painting. The scene of the crime is the small church where he occasional helps his father (Zbigniew Zapasiewicz). With the accidental death of his wife fifteen years earlier, the old man's career as a famous conductor came to an end. Since then he plays the organ in the old church with an impressive angel painting above the altar.
Why does Francis not stop the gallery owner Benedikt (Wojciech Pszoniak) and his men? What is his motive? The morning after the theft, the young man only wants to go up into the air, literally. A small aircraft brings him high into the sky, watched anxiously by his girlfriend Klara (Kamilla Baar). He has very little concern for her feelings, stretching his free-falling time to the limit. We now realize, this angel-face is as cool as a cat and loves to play with danger.
Next, Francis visits his suicidal brother Michal (Grzegorz Artman), who is in prison for killing two men. He asks him to hide the film. After that he goes to the art gallery demanding the return of the painting to the church. A baffled Mr Benedikt first laughs at him, then asks him how much money he wants. "Nothing," is the answer. "You have stolen, I want to help you." Despite his unbelievable coolness, there is an air of incredible naiveté about Francis. Can one just turn the clock back and all will be well?
In the next few days Francis learns some lessons in life: His beloved old car is blown up in front of his eyes, Mr Benedikt faces problems in retrieving the painting, Klara leaves him in anger, police officer Sopel (Zbigniew Zamachowski) arrests him, and his brother makes another attempt at suicide.
The gentle, love-sick Klara makes a touching contrast to the hard-nosed, controlled Francis. Is he a justice-loving fanatic or just crazy? Not all actions or motives can be fully explained. There is a traumatic connection to the accident that happened fifteen years ago, but nothing is quite so simple and some unresolved mystery remains. This does not distract a bit as one is kept watching in suspense, enjoying the excellent cinematography, especially of a beautiful "love" scene in ravishing colours, as well as the very fine acting of all cast.
For his documentaries Absolut Warhola, Die Mitte and Reality Shock, director Stanislaw Mucha was much applauded, receiving numerous prizes. Hope is a German-Polish cooperation and his first feature film. The script is by Krysztof Piesiewicz, who was Krysztof Kieslowskis' longstanding co-author (Three Colours trilogy). (Birgit Schrumpf)