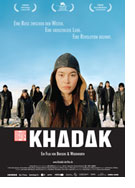 Opening 17 Apr 2008
Directed by: Peter Brosens
Writing credits: Peter Brosens, Jessica Hope Woodworth
Principal actors: Tsetsegee Byamba, Dugarsuren Dagvadorj, Banzar Damchaa, Tserendarizav Dashnyam, Batzul Khayankhyarvaa
An icy wind howls over the Mongolian steppe, heavy mist dips the snow-capped hills into an eerie milky-white colour. Inside the comfortably heated round yurt two old men drink to each other's health. Bagi (Batzul Khayankhyarvaa), the 17-year-old teenager who lives there with his mother and grandfather (Damchaa Banzar), is herding the sheep home. When one sheep is missing, he gallops out into the wilderness to find the half-dead creature. The sheep recovers, but Bagi is struck down, lying motionless on his bed for days. The witch (Tserendarizv Dashnyam) enters the hut, a respected shaman woman who utters frightening screams and groans and vigorously hits Bagi's "lifeless" body. After he has come alive again, she urges him to work with her as he has the rare gift of "seeing" things and hearing animals from far distances. He should not deny his fate. Bagi resolutely dismisses her as he does not think that this is his destiny in life.
Soon after, a convoy of military jeeps arrives, disgorging men in white overalls with surgical masks covering their faces, stomping around the hut. The commander rudely shouts orders that all animals are to be collected and taken away to be slaughtered. An unknown disease has hit the area and everybody is going to be evacuated to the nearby mine town. Shock, confusion, and helplessness follows. The only one not stirring is grandfather, undisturbed by the commotion around him. He has to be picked up, still sitting on his stool, and carried to the truck joining the other unfortunate nomads to be resettled in run-down shabby high rises. The young ones are needed in the coal mine, leaving the old folks to succumb to depression. 
Bagi, now driving his motorcycle as a postman, has his "sightings" again – combined with an epileptic seizure, according to the doctor. It is more than that: he can hear herds of animals, hidden in a shed, and he mobilises his comrades to free them (shown with a glorious fairy-tale idea of "freezing" the baddies). He can hear a young girl suffocating under a heap of coal and rescues her. Again the shaman is present, in touch with his soul which is travelling along the water ducts through town. At this point I am losing the thread of the story as is it gets even more mystical and confusing. That does not seem to matter very much – I read afterward in an interview with director Jessica Woodworth – as "the audience does not have to take all these images literally". Well, I am glad to know. I enjoyed the film, often wide-eyed with fascination of yet another unusual visual experience and sounds. I liked the abstract ideas put on film (like the tree hanging upside down or holy blue ribbons – the "Khadak" – raining from the sky). But then, I also like the paintings by René Magritte.
It is a very beautiful movie with amazing and innovative camera work, filmed with great respect for the fantasy world and mystical, symbolic images and beliefs which apparently are still an integral part of life for the Mongolian nomadic people. At the same time, the film also touches on the theme of forced evacuation, displacement and eradication of a whole culture.
After thorough research, the script was written by the two directors, Peter Brosens and Jessica Woodworth. With Khadak they won prizes at the Toronto Film Festival, the International Film Festival Bratislava, and the "Lion of the Future" newcomer prize at Venice 2006. (Birgit Schrumpf)