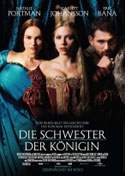 Die Schwester der Königin (The Other Boleyn Girl)
U.K. 2008
Opening 6 Mar 2008
Directed by: Justin Chadwick
Writing credits: Peter Morgan, Philippa Gregory
Principal actors: Jim Sturgess, Mark Rylance, Eric Bana, Scarlett Johansson, Natalie Portman
At the Berlinale this film was scheduled to be screened (out of competition) at the end of the festival, and I was looking forward to sitting back and enjoying a sensual historical tale with beautiful people in luxurious outfits. I was not disappointed! Natalie Portman as Anne and Scarlett Johansson as Mary are the two Boleyn sisters, both competing for the love of a king. Eric Bana made a very handsome King Henry VIII, who first falls for the one and then for the other Boleyn girl.
To start at the beginning: the three children, Anne and Mary together with their brother George, are frolicking in the high grasses on the Boleyn family estate. Soon Mary, the younger of the sisters, is to be married to a local lad. Away in London the not-so-young queen (Ana Torrent) suffers a miscarriage, and England faces the grim reality of no heir to the throne.
Help is at hand. The clever, scheming Duke of Norfolk (David Morrisey), uncle of the two girls, has good connections to the court and knowledge of its intrigues. The king (Eric Bana) is to be invited for a hunting party in the country where the dark-haired, beautiful Anne Boleyn is to seek his attention and conquer his heart. Alas, things turn out differently. The king chooses the "wrong" girl, the demure, blond Mary. It is no hurdle that she is married. Without further ado she and her young husband are ordered to stay at the court where she soon becomes the king's mistress. What started as an uneasy relationship turns into love, and expectations run high when Mary falls pregnant. Due to problems with the pregnancy, Mary has to stay in bed for weeks, kept like a prisoner in her own room. 
Anne returns from France where she had been banished when falling from grace with the family. She now is very sophisticated, very amusing, very diplomatic and is entertaining the gentlemen of the court, slyly keeping an eye on the king. She manages to bewitch Henry and to ensnarl him away from her sister. Anne does not intend to go the same way as Mary; she will not become his mistress. Instead, she is keeping him in suspense with promises. The fickle Henry is totally blinded and obsessed with her. For the smart Anne it is marriage she is aiming for. Her conniving ways are threatening to divide catholic England. It is a dangerous game she plays, but she wins her way. She wins marriage with a king who soon regrets his decision. In the end, she too is betrayed and she dies – beheaded – as an unloved queen.
The young British director Justin Chadwick based his film on the novel by Philippa Gregory. It is well acted, easy entertainment and should do well at box offices as it offers something for everyone, dealing with sisterly love, sibling rivalry, father-daughter and mother-daughter relationships, betrayal and intrigues. The main characters are supported by a strong cast, i.e., the Spanish actress Ana Torrent as a vulnerable but proud Queen Katharine of Aragon, Jim Sturgess as the brother George Boleyn, and David Morrisey as Duke of Norfolk. (Birgit Schrumpf)