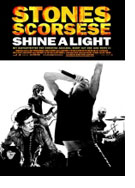 Opening 3 Apr 2008
Directed by: Martin Scorsese
Writing credits:

What hype, what raw energy! These four veteran rockers don't do anything by half measure. Even if you are not a staunch fan of the Rolling Stones you have to admire their performing skills and sheer stamina and endurance.
The Oscar-winning director Martin Scorsese starts his film Shine a Light with the concert preparations, shooting in black and white. The Clinton family appear briefly, and it is Keith Richards who greets Hillary Clinton's mother with a casual, "Hello Dorothy," before the start of the show. The whole filming took place during two Rolling Stones benefit concerts for the Clinton Foundation at the Beacon Theatre, N.Y., in the autumn of 2006.
Supervised by experienced cinematographer Robert Richardson (Oscars: The Aviator, JFK) an extraordinary team of experts captured every move with their 26 cameras, resulting in fascinating close-ups of Mick Jagger, Keith Richards, Charlie Watts and Ronnie Wood in action. It is uplifting to see that age does not stop them from engaging in strenuous live performances, to witness their passion and total dedication to their music, engaging in what they love best. Martin Scorsese has interspersed the show with a few clips of ancient interviews, of which the one is particularly amusing, when a very youthful, sweet-looking Mick Jagger is asked if he could imagine doing rock concerts when he is 60, and his reply is a leisurely, "Yeah, easily". Well done; he now is 63 (at the time of the filmed concert) and seems as fit as a fiddle, jumping up and down the stage at a breathtaking speed.
This is mostly a Mick Jagger show. Mick Jagger's presence is almost too overwhelming, and it is a pleasure to welcome his special guest artists, blues-man Buddy Guy, who sings a wonderfully moving duet with him, followed by Jack White of the White Stripes. When Christina Aguilera takes the stage, it is a delight to listen to her full-blooded performance. Mick Jagger, joining her in duet, takes the opportunity of showing off his erotic choreography (I am sure he is young at heart, but Aguilera was sexy enough on her own). 
The film Shine a Light has been categorised as a documentary, but it is really a "music film", an invigorating musical trip down memory lane and a celebration of the band's greatest songs and their durability. The group was formed in London in 1962 – it is a document of a band that has influenced rock music for over four decades. What an impressive show. (Birgit Schrumpf)