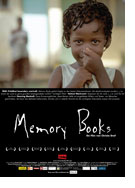 Memory Books - Damit du mich nie vergisst...
Germany/Switzerland 2008
Opening 1 May 2008
Directed by: Christa Graf
Writing credits: Christa Graf

An early morning haze softens the sharp edges of poverty as people move along a dusty red-dirt road. Cut to a packed rustic classroom where smiling children answer their teacher's questions during a startlingly honest lesson about HIV/AIDS. In this atmosphere, the audience is about to be taught a lesson about love, life and the gift of immortality.
Memory Books is a powerful 90-minute documentary in English/local languages with German subtitles and voiceover. In East Africa Uganda, despite the government's comprehensive efforts, an estimated 35% of the population is infected with the HI-Virus. This is the thread that ties together the protagonists' stories, HIV-infected women lending the film an immediacy and intimacy at once disturbing and moving.
Christa Graf, director and writer, presents compelling portraits of four women struggling to maintain their integrity under the rigors of a devastating illness and a 10-year-old survivor responsible for his younger sister. Encouraged to write Memory Books, literally and symbolically, the books help infected women become healthier – they become psychologically stronger, which stabilizes the immune system.
Harriet, in flickering candle light, describes to Winnie what she is writing in her daughter's Memory Book. Harriet, second wife Elizabeth and their children live together, both wives infected by the husband who died of AIDS. Throughout, Harriet discusses her illness with amazing candor, as we watch her fight her grief and fear with strength of will and lack of self-pity. In each child's Memory Book Harriet has written what she wishes for their future, gives advice and consolation. Winnie comforts her mother.
The voiceover tells us AIDS is the illness of poverty. The Trans-African Highway cuts through Uganda and with nothing else of value to sell, women sell themselves. Although conversely these women, faced with how to cope with HIV-infection, have taken power for their destiny away from the men.
Stalwart Christina, a nurse, quietly says she draws courage from her three children. Each child has a personal Memory Book. It is four years later that we listen to Christina compassionately tell women the results of their HIV-tests and reassure them they will receive free medication through the hospital. Taking pages from her daughter's book as examples, she travels to rural villages to show infected women how to write a Memory Book for their children.
Betty is not afraid of death. Although she can neither read nor write, Betty fears leaving her children not prepared for life, especially Lucy the youngest. She wants them to have a key to her knowledge and experiences long after she is dead, thus Betty's son George writes her Memory Book with Lucy sitting on her lap. Her older children say she has changed; now they spend more time together and are closer. 
Dennis reads to his little sister Chrissi from pages in the Memory Book their mother made before she died, two from circa 2 million Ugandan orphans. Tears roll down his cheeks as Dennis talks about his mother: taking care of her when she was sick, writing the book together. He tells Chrissi a story his mother told and later we watch him write it in the Memory Book. "She always said that someday the book would help us, and it really does. When I read to Chrissi, it is as if she is speaking to us".
Shots of Ugandan way of life separate sequences: the commotion of Kampala, women cooking together, trucks rumbling along roads throwing up dirt and dust on those walking or on bikes. We glimpse photos, drawings and text as the camera pans over pages in Memory Books. Good camera work – lingering on faces, following a hand writing in the book, and solid editing achieve the right balance: we have time to digest the stories. Some transition cuts I found abrupt, whereas a dissolve would have been a better choice. Music is sparingly used under the footage separating the sequences.
This exceptional film reveals the complicated, powerful responsibility dying women face, yet is fascinating in showing the correspondingly honest, sensitive contact with their children and one another. They carry themselves in such a special manner; with calm dignity they show the way one accepts one's destiny. "Sometimes there are things we forget to tell our children but the Memory Books help us – bad and good, it is our life." (Marinell Haegelin)