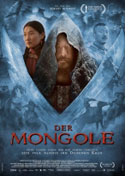 Opening 7 Aug 2008
Directed by: Sergei Bodrov
Writing credits: Arif Aliyev, Sergei Bodrov
Principal actors: Aliya , Tegen Ao, Tadanobu Asano, Ying Bai, Khulan Chuluun
With his historical epic the Russian director Sergei Bodrov (script with co-writer Arif Aliyev) follows the early years of Temudgin (better known as Genghis Khan).
Temudgin is only nine years old when his father dies in his arms, maliciously poisoned by an enemy clan. He has to flee as his own life is threatened, and for years he is forced to live as a fugitive. It is the young prince Jamukha who finds him half-frozen in the snow. The two boys form a bond of friendship and become blood-brothers. As young adults they ride into battle side by side to free Temudgin's kidnapped bride Borte, betrothed to him when she was only ten years old.
She is the love of his life. Through all his hardships, during which Temudgin is captured, humiliated, kept in chains, beaten, and sold as a slave, the spirited and bold Borte (newcomer Khulan Chuluun) remains his great love. She becomes his adviser and best ally, miraculously helping him to escape from a locked cage surrounded by viscous dogs. Miracles and mysticism are never very far and more than once the story drifts into the realms of imagination.
This grand-scale movie is filmed in Mongolia. The impressive landscapes form the background to reckless and gory battle scenes with warriors brandishing gleaming swords, with blood spraying in (artful) slow motion, underlined with the powerful music score by Tuomas Kantelinen (and the young Mongolian Folk-Rock band Altan Ulrag), mixed with the strained, rhythmical breathing of horses.
Temudgin has turned into a fearless and courageous leader with an iron will to unite the clans of Mongolia "even if half of them have to be killed first to achieve peace for the region." The archaic middle-ages are depicted with all their crudeness and rough customs. In 1196 he wins a decisive battle against his blood-brother Jamukha, starting him off on his way to become the great Genghis Khan. He is convincingly played by Tadanobu Asano (Zatoichi, Last Life in the Universe), with Honglei Sun (The Road Home) acting as an excellent opposite, adding a humorous and light-hearted touch.
This action film is interwoven with emotional scenes of love, showing the hero in the little known role as a father and husband as well as a courageous visionary in the world of marauding nomadic tribes. The slow, drawn-out and/or repetitive scenes are compensated by excellent cinematography and attention to detail. Mongol was nominated for an Oscar 2008 in the category Best Foreign Language Film. (Birgit Schrumpf)