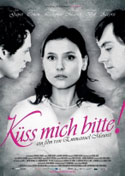 Küss mich bitte! (Shall We Kiss?, Un baiser s'il vous plaît)
France 2007
Opening 7 Aug 2008
Directed by: Emmanuel Mouret
Writing credits: Emmanuel Mouret
Principal actors: Virginie Ledoyen, Emmanuel Mouret, Julie Gayet, Michaël Cohen, Frédérique Bel
Just a kiss? Why not! The romantic song "A kiss is just a kiss …" must have inspired the French director and script writer Emmanuel Mouret.
Emilie (Julie Gayet) meets Gabriel (Michael Cohen) on a business trip and they spend an enjoyable dinner together. Gabriel is about to give the attractive Emilie a good-night-kiss but she backs away. Why? In fact she is strongly attracted to this stranger and wants to give an explanation by telling him the story of Julie and Nicolas.
Julie (Virginie Ledoyen) is happily married to Claudio (Stefano Accorsi). Nicolas (Emmanuel Mouret) is her best friend; each Saturday the two go jogging, talk about their joys and little problems. One day Nicolas reluctantly tells her what is troubling him. He is in dire need of physical closeness (the prostitute stint was a flop – they don't allow kissing) and his understanding friend Julie is the only one to turn to. "Could I kiss you, please?" After she has granted this little favour, he seems to be cured and happy with Caline (Frédérique Bel) his new girlfriend. But the memory of the kiss lingers on and he again approaches Julie for help. "Can I touch your breast? Yes. - Can I touch your other breast? My mouth is dry, I first need some water. - I'll get you a glass."  This is their dialogue sitting stiffly and fully dressed on the edge of the bed. Very funny! Can one be that naïve? Does that work? It sure enough works. It turns their life upside down. Their emotions go on a roller-coaster ride as their well-meaning but outlandish ideas turn out to be unrealistic.
Emilie comes to an end of the story, with Gabriel now sitting in her hotel room, as the bar had closed hours ago. Is he leaving without a kiss?
This multilayered, light-hearted but unconventional love comedy is endearing and sensitively acted. The funny situations inspire a broad smile rather than the laugh-out aloud version. There is an almost old-fashioned approach to love, fittingly accompanied by music of Schubert, Tchaikovsky and Mozart. (Birgit Schrumpf)