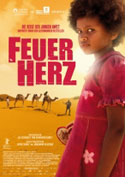 Opening 29 Jan 2009
Directed by: Luigi Falorni
Writing credits: Luigi Falorni, Gabriele Kister
Principal actors: Letekidan Micael, Solomie Micael, Seble Tilahun
Luigi Falorni based his script on the highly controversial biography of Senait Mehari, a former child soldier and refugee from Eritrea, now a model and singer living in Germany.
Awet (Letekidan Micael), a 10-year old Eritrean girl, is a happy student at the Christian monastery in Asmara, until one day her elder sister unceremoniously collects her to re-join her father and his new family. The farewell gift of the Italian nuns is a Jesus-picture, the "heart of fire", now her treasured talisman.
In the dusty village she is put to work for the extended family, commandeered by her lazy father. His idea of contributing to the "revolution" is to send his two daughters to a military battle unit. The group of thrown-together fighters, hidden in the bush, becomes their new family. She does not know where or why the war is happening (neither does the audience), but she sees wounded men returning to camp and witnesses their suffering. When the fighting draws nearer and a shortage of soldiers becomes evident, the children exchange their wooden rifles for the real thing. Awet does not like to see people bleeding and being killed. She secretly and naively removes all life-munitions from their rifles. The result is disastrous, their unit loses the battle and the camp is abandoned. Awet flees with her sister across the Sudanese border into freedom.
"Authenticity was of the utmost importance", said Falorni (known for his Oscar-nominated documentary Das weinende Kamel). All actors originated from refugee camps and had experienced the war firsthand. The filmmaker surely had good intentions but the movie does not draw you in. More background information would have helped in understanding the Eritrean situation. Despite the tragic circumstances, the viewer remains an uninvolved onlooker. (Birgit Schrumpf)