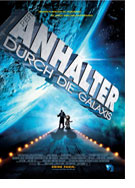 Per Anhalter durch die Galaxis (The Hitchhiker's Guide to the Galaxy)
U.S.A./U.K. 2005
Opening 9 Jun 2005
Directed by: Garth Jennings
Writing credits: Douglas Adams, Karey Kirkpatrick
Principal actors: Martin Freeman, Mos Def, Sam Rockwell, Zooey Deschanel, Bill Nighy
Based on the beloved book of the same title, which I must admit that I have not read, H2G2 takes us on a journey through the imagination of its author, Douglas Adams, whose imagination was at least as big as the universe. Our traveling companions on this adventure are "everyman" Brit, Arthur Dent (Martin Freeman); alien travel writer and Arthur's best friend, Ford Prefect (Mos Def); obnoxious and shallow President of the Galaxy, Zaphod Beeblebrox (Sam Rockwell); a girl looking for answers and also for a good time, Trillion (Zooey Deschanel); and Marvin (Warwick Davis, voiced by Alan Rickman), a chronically depressed robot. Our guide on the journey is H2G2, the book within the book (voiced by Stephen Fry), as factual as an encyclopedia, but as practical as an instruction manual with its animated diagrams. Its most important piece of advice is printed on its cover: DON'T PANIC!
This film was so funny that I am tempted to write this review completely in the delightful and insightful zingers which make up the dialog. But in spite of the humor, which in some cases is just plain ludicrous, the plot grapples with the Ultimate Questions with which we all struggle. What is the nature of the universe? What is the meaning of life? Throughout the course of the film, we actually get answers. (And the answer, by the way, is not "42".)
Adams himself was highly involved in this film version before his untimely death at the age of 49, which should calm the apprehensions of his devoted fans who fear that the movie will fall short of the book. (He had just finished the second draft of the screenplay when he suffered a heart attack.) Director Garth Jennings makes his feature film debut, and not to detract from his accomplishment, but with a seasoned production team, a talented if not quirky cast, an absolutely brilliant screenplay, and aliens created by Jim Henson's Creature Shop, how could he go wrong?
Three and ½ stars because the humor in this movie is not for everyone, and not for every mood. So long, and thanks for the fish! (Alyssa Cirelli)