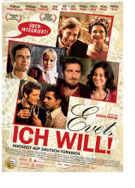 Opening 1 Oct 2009
Directed by: Sinan Akkus
Writing credits: Sinan Akkus
Principal actors: Heinrich Schafmeister, Ingeborg Westphal, Oliver Korittke, Lala Yaves, Meray Ülgen
Dirk (Oliver Korittke) and Özlem (Lale Yavas) are sweethearts and want to get married. Dirk's free-thinking parents (Ingeborg Westphal and Heinrich Schafmeister) don't quite see the necessity, but then, why not? They agree to officially ask Özlem's parents for their blessing as required by Turkish custom. Unexpected problems arise: is Dirk a Muslim? No, but he will convert. Has he been circumcised? No, but why should he? The Germans are shocked by these demands and conditions. All their polite intentions are gone; instead complete incomprehension prevails on both fronts.
The pretty and cute mechanic Emrah (Eralp Uzun) has a different problem. He also wants to get married but not to the woman his father has chosen. His lover is a man. He is engaged to his charming German colleague Tim (Mickey Hardt). How can he tell his father?
The Kurdish radio announcer Coskun (Tim Seyfi) is threatening to cut off his finger if his father does not allow him to wed his girlfriend Günay (Idil Üner). Her father in turn would rather cut his entire hand off before allowing his daughter to marry into a family of orthodox Muslims.
Salih (Mürtüz Youlcu) has just arrived from Turkey and relies on his uncle to find him a bride, but all he really wants is permanent residency in Germany. To be on the safe side he prays for Turkey to join the EU soon. The shy Sülbiye (Hülya Duyar) is not beautiful enough to be his wife. This only encourages her to find her true "prince charming" elsewhere.
After a melodramatic kidnapping and revolver swinging, all is well in the end. There may be a few clichés, but it is fun to watch the well-chosen cast performing a kaleidoscope of complicated emotions. It takes some effort for folks of various cultures to come to terms with each other. Serious problems become hilarious but are never abused, and you can relax with good-humoured laughter. Sinan Akkus wrote the script and directed his film with swift tempo. After his acclaimed short films, this is his first full-length film. Sit back and enjoy this German-Turkish-Kurdish love comedy! (Birgit Schrumpf)