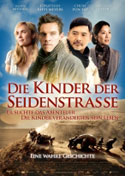 Die Kinder der Seidenstrasse (The Children of Huang Shi)
Australia/China/Germany 2008
Opening 8 Oct 2009
Directed by: Roger Spottiswoode
Writing credits: Jane Hawksley, James MacManus, Simon van der Borgh
Principal actors: Jonathan Rhys Meyers, Radha Mitchell, Yun-Fat Chow, Michelle Yeoh, Guang Li
In 1937/38 China is in turmoil. The communists fight against the nationalists, and the Japanese attack the country from the air and on land. Civilians flee by the thousands and are brutally massacred. The young, inexperienced English journalist George Hogg (Jonathan Rhys Meyers) is shocked and frightened. He wants to tell the world of the atrocities around him. His comrades get killed before his eyes, his camera and valuable photos are confiscated by the Japanese, who are about to behead him. Only a last minute coup by the Chinese underground officer Jack Chen (Chow Yun Fat, Tiger & Dragon) saves his life. Weak and wounded, he finds himself in a makeshift hospital tent, where he meets Lee Pearson (Radha Mitchell), an American nursing sister. She urges him to stay in the mountains until he gets strong again. To his surprise, the hiding place is a run-down orphanage, with about 60 children of all ages staring at him in distrust. They are dirty, undernourished and viciously hostile.
It takes George some ingenious ideas to earn the trust of the disillusioned children. Sister Lee is well respected and periodically comes visiting, her mule heavily packed with sacks of rice, for which she had to bargain with the rich and elegant Madame Wang (Michelle Yeoh, The Geisha, Tiger & Dragon) in town.
When Japanese army spies get close to the mountains, the children's safety is at risk. George Hogg, the once naïve Oxford student, has become a courageous young man, taking responsibility for the 60 homeless children. He has a daring plan: to trek far away from the occupying Japanese, leading the children along the ancient Silk Road to a village at the western end of the Gobi Desert. This means a march of 1,000 kilometres over snow-capped mountains. A desperate and crazy plan, but it may work.
The Canadian-born Roger Spottiswoods (James Bond 007) directed the film – a mix of adventure, war and love – based on George Hogg's life and experiences in China, where he is still fondly remembered by "his children" still alive. It is a German/Australian/Chinese co-production by Arthur Cohn (6 Oscars) and Wieland Schulz-Keil. A highlight of the fine cinematography is the breathtaking desert scenery. (Birgit Schrumpf)