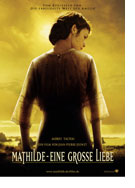 Mathilde – eine Große Liebe (A Very Long Engagement, Un long dimanche de fiançailles)
France/U.S.A. 2004
Opening 27 Jan 2005
Directed by: Jean-Pierre Jeunet
Writing credits: Sébastien Japrisot, Jean-Pierre Jeunet
Principal actors: Audrey Tautou, Gaspard Ulliel, Jean-Pierre Becker, Dominique Bettenfeld, Jodie Foster
Mathilde lives with her aunt and uncle in a small village. She loves Manech who lives in a lighthouse near the sea. He must fight for France in World War I, where trench warfare is inhumane and five soldiers, including Manech, inflict wounds upon themselves in order to be sent home. As traitors they are sentenced to wander unprotected in no-man's land, that area between the trenches of the French and the Germans. A quick death is certain either through the enemy or friendly troops, who are allowed to take pot shots. Mathilde insists on searching for Manech. She is well-organized, a talent she might have developed as a result of having to cope with being lame from childhood polio. She hires a private detective; she coerces her lawyer who manages her inherited money; she writes letters to the families of the other four men and visits them. From here the film turns into a detective story about a delicate woman with an iron will, who, for seven years, never believes in her lover's death. We don't believe it either, but the ending is still a surprise.
Director Jean Pierre Jeunet (Delicatessen) knew what he was doing when he cast Audrey Tautou as Mathilde, having directed her signature film: Amélie and her actions, posture, and wide-eyed-doe-in-the-headlights look carry over well from Amélie to this film. This is an ensemble piece with many bit parts well-acted by excellent French actors. A surprise is Jodie Foster, a soldier's girl grown older. She is listed in the film credits, but is entirely missing from the press packet, supposedly because she was dissatisfied with her smaller role. The sets were planned in detail; the trench warfare is realistic and anyone who has never seen the likes in a film will become educated; the same goes for the scenes of 1920s Paris. The colors are brownish like old daguerreotypes, except for the war scenes which are grey/blue to match the soldiers' blue uniforms. Although this is a serious topic, there is humor just as real people laugh and cry at the same time. Author Sébastien Japrisot wrote the book, but died before reading the screenplay. The only dissonance in a perfect film is the language in German (or even English for that matter). Try for French with subtitles if possible. (Becky Tan)


Second Opinion

Jean Pierre Jeunot skilfully blends together a powerful film from the very different stories of a brutal war, a young romance and a bumbling detective plot. He is successful at combining these stories that normally would compete for your emotional attention because they all tend to be in the realm of the absurd. Ask any soldier on leave how difficult it is to move between the two very different realities of battle and home. Try to convince two star-crossed lovers to consider practical matters and possible problems ahead. Follow a detective as he tries to separate truth from fiction. Fortunately Jeunot is a master story teller that is as comfortable with dark comedy (Delicatessen, The City of Lost Children) as he is with whimsy (Amelie).
During the First World War Mathilde (Audrey Tatou) receives a letter that says that her young French lover has been court marshalled and sentenced to death. He and four other fellow soldiers shot off one of their hands or limbs hoping to be sent home to escape the horror of the trenches at the front. Actually Manech (Gaspard Ulliel) raised a lit cigarette over his head and let the Germans shoot his hand off. They were ordered to be executed and were pushed into no man's land to let the Germans kill them instead.
Never quite satisfied with the official accounting for his death, Mathilde hires a detective (the late Ticky Holgado) and begins her own search for the truth, always hoping that he is still alive. Jeunot masterfully weaves eccentric characters in and out that tell their own chilling version of Manech's fate as well as their own. It also reveals the struggle of those who survived the war, returning to their homes and families, but still haunted with the memories. The cold detachment of the French Generals for the harsh conditions at the front that the soldiers had to struggle to survive in. The horror of war, and the strength of love.
Most of the scenes were in sepia tones, as in faded old postcards, which helped blur the distinction between past and present, truth and something less. We are fortunate to have a gifted storyteller to remind us that the war to end all wars did not and could not – not until we all come to believe that war itself is too absurd to be allowed in a civilized world. The mechanically signed letters that were sent to the families of the deceased soldiers in Iraq should begin new searches for the truth, just as it did for Mathilde. (Patricia Ritz)