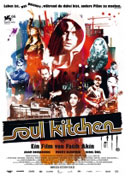 Opening 24 Dec 2009
Directed by: Fatih Akin
Writing credits: Fatih Akin, Adam Bousdoukos
Principal actors: Adam Bousdoukos, Moritz Bleibtreu, Birol Ünel, Anna Bederke, Pheline Roggan
Perhaps best known for his international acclaimed drama Head On (Gegen die Wand), German-Turkish director Fatih Akin is treading on new ground with Soul Kitchen. He calls it his "first Heimatfilm" which he co-scripted with Adam Bousdoukos (playing the lead role), and it is loosely based on Jasmin Ramadan's book. It is no sweet, sentimental film about Bavaria and the Alps. Instead this is northern, multicultural Germany, with Greeks, Turks, drifters and rock bands. And yes, it is all about love, friendship and a "feeling of home." The film opens with a snappy soundtrack introducing the ramshackle eatery "Soul Kitchen" next to some railroad tracks in a neglected area of Hamburg.
Zinos Kazantsakis (Bousdoukos), the young owner and chef, is stressed, overwhelmed by work and financial worries. His girlfriend Nadine (Pheline Roggan) is leaving for a job in Shanghai, and to make matters worse, his brother Illias (Moritz Bleibtreu) is out of prison on parole, asking for money. Disorganized, love-sick Zinos wants to join Nadine in China. In desperation he hires Shayn (Birol Ünel), an out-of-work, eccentric star-cook. The working-class clientele is disgruntled with his nouvelle cuisine, but the young in-crowd of the neighbouring dance studio loves the place. Brother Illias falls in love with the sassy waitress Lucia (talented new discovery Anna Bederke). Business is picking up, debts can be paid, and a ticket to China is bought. But life does not run smoothly for Zinos, and he never gets any further than the Hamburg airport.
The story unfolds to an eclectic soundtrack, a potpourri of Hamburg's musical variety including Hans Albers' songs of Greek and Turkish folklore. Music plays an integral part and is often used in lieu of a "voiceover." The experienced eye of the cinematographer Rainer Klausmann is again part of the successful team.
There are a number of cameos, i.e., Albert Wiederspiel, organizer of Filmfest Hamburg, in the company of comedian Gustav Peter Wöhler, who might be recognized mainly by the Hamburg audience. As Akin said, "It's a Heimatfilm," but this well-paced comedy with Hamburg scenes always in the background can also be appreciated internationally as proven at the Venice and Toronto film festivals.
This boisterous comedy is a veritable feel-good movie with a palpable sense of community and genuine affection for the people and the setting, leaving me with a warm smile at the end. Don't be in a hurry to leave the cinema as the credits are especially inventive. (Birgit Schrumpf)