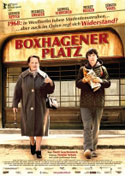 Opening 4 Mar 2010
Directed by: Matti Geschonneck
Writing credits: Torsten Schulz
Principal actors: Jürgen Vogel, Meret Becker, Michael Gwisdek, Hans-Uwe Bauer, Horst Krause
Author Torsten Schulz wrote a successful book, Boxhagener Platz. Director Matti Geschonneck filmed the story. He was wise to involve Schulz with writing the script.
All the characters live or work around Boxhagener Platz. Although this is an ensemble cast, the two main characters are oldies: Granny Otti (Gudrun Ritter) and Karl (Michael Gwisdek). Otti's 12-year-old grandson Holger (Samuel Schneider) also lives in the same building with his parents. He spends much time sampling granny's cooking, which reflects the time and place, 1968 in East Berlin: lentil soup, carp with potatoes, Leipziger meat balls, Roulade. There are few cars; buildings are grey and run down; the apartments feature useless knickknacks and horrible flowery wallpaper (which seems to be standard in films about former Eastern Germany). His sick grandfather comments from his bed in the next room. Holger witnesses the lives of those around him and tries to decipher what he does not understand. For example, one night his grandpa actually rises, dresses, and leaves, not to return before sunrise. Herr Winkler, an old Nazi who sells fish and has a warm spot for Otti, dies suddenly. Holger's father (Jürgen Vogel), a policeman with visions of a grand future in law and order, investigates until the Stasi becomes involved. Grandpa also dies soon afterwards. Otti falls in love with Karl whom she frequently sees in the cemetery. The cemetery is an integral part of granny's life, where she has buried six spouses. "Das die Kerle immer so schnell schlapp machen müsssen." (That these old guys have to keel over so quickly!) She finds Karl's present to her quite romantic; it's a book with the poem Das Scheintote Kind (the seemingly lifeless child). Karl, who seems to have no trouble travelling between East and West Berlin, is suspected of killing the fish monger. Holger's mother Renate (Meret Becker) dreams of moving to the West and his gay uncle brings his boy friend to the Christmas Eve party.
This is a film for anyone who loves Germany, or even better, has some connection to Berlin and understands this specific East German dialect. It's a real Heimat film, or as the director says, "a declaration of love to Berlin." At the same time, it is universal – a slice of life which could be anywhere in the world. It showed during the 2010 Berlinale film festival and the following participants spoke at the press conference: director Matti Geschonneck, script writer Torsten Schulz, and actors Jürgen Vogel, Samuel Schneider, and Michael Gwisdek.
Torsten Schulz said he based the book and later the film on his own childhood and grandmother, although at the time he was eight years old – not 12. His grandmother buried four husbands. Geschonneck wanted it to be a comedy, not burlesque, and at the same time, serious, which he deftly achieved. It was important for viewers to know the humanity and heart of the people. Not everyone was bad; not even the Wessis on the other side of the Wall.
Besides Schulz, Geschonneck also actually lived at Boxhagener Platz around 1950-60 and went to school there. However, after the Wall fell in 1989, the neighbourhood has been upgraded to such an extent that it could no longer actually be in the film, which was then made in Halle, Dessau, and Studio Babelsberg. Geschonneck did find the old cemetery near his own neighbourhood in Berlin's Prenzlauer Berg.
After 45 years in Germany, I enjoyed this film tremendously and even understood most of it without any subtitles (which might be useful for Swiss or Austrian German speakers). I could connect although I'm not German. I did wonder at the amount of alcohol people drank; every social event called for beer, Schnapps, eggnog, etc, and nobody got obviously drunk. The film team set out to make it an authentic little historical gem, a goal they definitely accomplished. (Becky Tan)