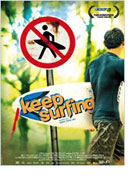 Opening 20 May 2010
Directed by: Bjoern Richie Lob
Writing credits: Bjoern Richie Lob, Benjamin Quabeck

Have you ever heard of surfing in the middle of town in the centre of Munich? Have you ever heard of "river surfing"? With this film Björn Ritchie Lob (director, script) introduces a sporting activity that was started by a handful of experimental-crazy youngsters about 30 years ago. When Lob visited Munich ten years ago, he already had experienced "normal" surfing in various parts of the world but was fascinated when watching how young enthusiasts were riding the river wave of the Eisbach (ice river). As he was just as eager in filming as in surfing, the idea for the film was born. With little money but ingenuity and lots of voluntary helpers, it still took him five years to complete this task.
The result is a documentary with some breathtaking sequences of foaming waters, dangerous situations, but also sharing in the fun and entertainment. For the viewer it is awe-inspiring watching these supple bodies dance on the wave. There is no doubt that it is a dangerous sport. It often becomes a guerrilla activity as one has to ignore the signs "bathing prohibited," "danger," "no surfing" which are placed along rapids. Police intervention is always a possibility.
Lob concentrates on a handful of protagonists involved in passionate river surfing. These are young professionals, a veteran surfer with family, a so called drop-out now living in Sardinia, an ex-criminal from San Francisco, a medical doctor and a computer specialist. Their biographies differ, but they all share a love of nature, of pure unspoiled pleasure, the idea of freedom and living up to a challenge. Surfing is a lifestyle-changing experience, and as one veteran says, "it makes you a better person."
The first half is a bit irritating to watch with too many jumpy cuts making you dizzy. But don't give up as you will be rewarded by the second half when another dimension is introduced to the story. The good-quality shots taken with a high-speed camera are truly stunning.
This is Björn Ritchie Lob's first full-length documentary and received the Audience Award at the Munich Filmfestival 2009. (Birgit Schrumpf)