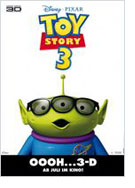 Opening 29 Jul 2010
Directed by: Lee Unkrich
Writing credits: Michael Arndt, John Lasseter, Andrew Stanton, Lee Unkrich
Principal actors: Tom Hanks, Tim Allen, Joan Cusack, Ned Beatty, Don Rickles
Woody the cowboy and his gang return to the big screen facing yet another extremely difficult challenge: Andy is heading off to college but has decided to take Woody with him while the others are to be left behind. This immediately sets Woody aside from the others, and the misunderstanding grows as the absent-minded teenager chooses a trash bag instead of a box to store his toys in the attic. His mother collects the trash bags and places them on the corner, setting the displaced toy into panic. Despite his secure future, Woody doesn't abandon Buzz Lightyear and his friends, even when they chose to be donated to the local day care. He consistently reminds them that they are Andy's toys and that the day care is not the place to be. On the surface the day care center appears to be a nice place, but they soon learn that the toddlers don't know how to play with them and at night it is being run by a disillusioned strawberry-smelling bear and his gang.
Usually seeing the number 3 after a title on a film is discouraging since the film usually has nothing new to offer, but Toy Story 3 shines through by making us laugh at even the age-old characters like Barbie and Ken dancing away to Dreamweaver while trying on their various wardrobes. The film was suspenseful as we watched Mr. Potatohead turn into a flat potato in order to escape, and the trash trucks seemed always to be looming on the outskirts to clean up the unwanted toys. It certainly gives kids a chance to think about what happens to their toys when they are not cared for or played with, as well as giving us adults the time to reflect how fast our children are growing up. Of course there are the Toy Story products that accompany the film such as a Buzz Lightyear robot and bed sheets among other items, which are now available to buy. (Shelly Schoeneshoefer)


Second Opinion

The toys are back in town in Toy Story 3, the follow-up to Pixar's groundbreaking Toy Story (1995) and Toy Story 2 (1999). In this third film (which takes place approximately fifteen years after the original Toy Story), Andy is getting ready to go to college. When his toys mistakenly end up at a daycare center instead of in attic storage, Woody, Buzz, Rex, Mr. Potato Head, and the rest of the gang must stick together and use all their wits to escape what amounts to a prison for toys.
Even with all the hype leading up to Toy Story 3's release, the film manages to live up to the gigantic expectations. The film works on both a child's level (although beware that there is a rather scary scene for kids about two-thirds of the way through the film) and an adult's level, especially if said adult has seen the first two films many, many times (as this reviewer has!). Unlike most sequels, which try to stretch an already-resolved storyline into an extra couple of hours, Toy Story 3 effectively uses the audience's familiarity with the characters to make their fates that much more poignant. The final scene is an absolute tear-jerker (so be prepared with tissues!) and an immensely satisfying end to an wonderful set of films. And while the story line with Andy may have concluded, there is always an opportunity to start a new story with these Toys... (Kirsten Greco)