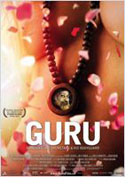 Guru - Bhagwan, his Secretary & his Bodyguard
Switzerland 2010
Opening 23 Sep 2010
Directed by: Sabine Gisiger
Writing credits:

Script and Direction: Sabine Gisiger, Beat Häner With: Sheela Birnstiel and Hugh Milne
In the '70s an extraordinary experiment took place to build an alternative, peaceful commune. Thousands of young people – mostly from the West – flocked to Bhagwan Shree Rajneesh's Ashram in Poona /India, looking for enlightenment, self-fulfillment and an alternative to the nuclear family. Famed for his philosophy that sex was the key to higher consciousness, he became known as "the Sex Guru". In the '80s the Ashram was moved to Oregon to make room for an ever-growing community, whose lifestyle was not tolerated in India any longer. Clashes with the community and U.S. authorities, and Bhagwan's bizarre interest in rather worldly things (his excessive Rolls Royce collection) reveal and /or further changes in the spirit of the commune and its leader. Two former close aids to the Guru alternate in sharing their own – and the story of the rise and fall of this experiment: Hugh Milne, former bodyguard, and Sheela Birnstiel, ex-secretary and spokesperson. These very differently motivated personalities, personally close for a while, turned adversaries in the end; both their lives come crashing down, before they find their paths to their present lives. The interviewer is edited out, making this a very exciting and intimate, one on one experience, illustrated by rare archival film clips.
This is not only a fascinating time document, asking 'When did it go wrong?' and 'How could this dream of ultimate freedom reverse itself?'. It gives food for thought about the dynamics of unconditional surrender, dependency, leadership and the corruption of power. (Carola A)


Second Opinion

This Swiss documentary by Sabine Gisiger and Beat Häner begins in the 1970s with the rise of a spiritual leader: Bhagwan Shree Rajneesh. He propagates a state of higher consciousness, free love, and independence from material goods. Thousands of disciples, so-called Neo-Sannyasins, move to his headquarters in Poona, India. Two disciples are Sheela Birnstiel and Hugh Mine, who became his personal secretary and bodyguard, respectively. The filmmakers follow the lives of these two in order to present an overview of the rise and fall of the commune. In 1981, after conflicts with the Indian government, the leaders buy farm land in Oregon, USA, and move there with five thousand of the most loyal followers who toil for hours in order to build a new city, which, in the end, fails due to internal turmoil, lack of leadership, paranoia, U.S. land-use restrictions, and resistance from local citizens. Although the Bhagwan died in 1990, his ideas live on, and it is fascinating to analyze the importance of those times in connection with this movement and its influence on history. Many of us still remember friends returning from Poona wearing loose orange-red robes and wooden bead necklaces with photos of Shree Rajneesh. (Becky Tan)