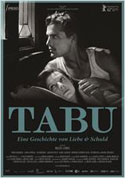 Opening 20 Dec 2012
Directed by: Miguel Gomes
Writing credits: Miguel Gomes, Mariana Ricardo
Principal actors: Teresa Madruga, Laura Soveral, Ana Moreira, Henrique Espírito Santo, Carloto Cotta
Winner of the Alfred Bauer Prize at the Berlin Film Festival, this quiet and melancholic film creeps up on you and is packed full of surprises. Like the film The Artist, this film is done in black and white but reminds us of the old adventure stories that took place in Africa. It definitely reminds me of the old Tarzan movies that are now one hundred years old. I think it is interesting that with all this modern technology there are still filmmakers who are looking back in time for ideas.
The first half of the film is done in the present where we meet Pilar and her neighbor Aurora. They appear to be two typical aging Portuguese women living in a high rise complex in Lisbon. Suddenly Aurora gets the calling to play all her money at the casino and unfortunately loses. Pilar is taken aback can't understand her actions. A few days later Aurora dies, and Pilar finds a letter from an old lover; she decides to find out who he is and what happened. This opens the second half of the film, like opening Pandora's Box where we see a completely different side of Aurora when she was young and living in Africa. Through this beautiful black and white film we see a distant and exotic world which is full of mishaps, secrets and adventure. The film was interesting but does spend too much time building up the character of Pilar, since she is only the person who listens to but doesn't really participate in the tale. Perhaps that is part of the taboo here, where director Miguel Gomes plays around with points of view and having non-typical things happen in order for us to enter into another world outside our own. (Shelly Schoeneshoefer)


Second Opinion

In the first half, the film proceeds day by day, like tearing pages off a calendar. Pilar is the model helpful soul, always ready to reach out to the next person, although she has no real life of her own. She lives vicariously. I agree that the film seems to have borrowed from The Artist in that it is almost a silent movie in black and white. The second part takes place many years prior. The "real" taboo would not be much of a taboo today, or at least probably would not create such far-reaching circumstances. Director Miguel Gomes said that Pilar was created after his own spinster aunt who used to take him to the movies. This aunt had a neighbor who claimed that her live-in help locked her in her room and practiced voodoo, much as Aurora claims, without any proof, that her African nurse Santa does with her.
Filmed in the Zambezia province of Mozambique, as well as Lisbon, we are free to imagine any country, real or fictitious. All of the actors are fine: Teresa Madruga as Pilar, Laura Soveral and Ana Moreira as young and old Aurora. I especially loved Carloto Cotta as the young Ventura, who caused much of the grief around a taboo without directly being the guilty party. (Becky Tan)