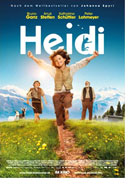 Opening 10 Dec 2015
Directed by: Alain Gsponer
Writing credits: Petra Volpe
Principal actors: Anuk Steffen, Bruno Ganz, Isabelle Ottmann, Quirin Agrippi, Katherina Schüttler
Swiss author Johanna Spyri wrote the children's book Heidi, which was published in 1879. Today it is the third most-translated book after the Bible and the Communist Manifesto. Films have appeared in 1920, 1937, 1952, and 1974, as well in series on television. It is especially popular as the subject of amination and mangas in Japan. Now we have a brilliant new version by director Alain Gsponer which does more than just confirm the fact that the Heidi story is still universally captivating in the 21th century. 
Eight-year-old Heidi is "dumped" onto her grouchy old grandfather Almöhi high in the Swiss Alps. She blossoms in the freedom of wide-open spaces and loving animals. She helps the village boy Geißenpeter herd grandfather's goats. In the spring Heidi's aunt Dete snatches her from this paradise and travels by train to Frankfurt, where Heidi will be a companion to Klara, who is handicapped. Life here is the exact opposite of her carefree life in the Alps. In the big, gloomy mansion of the Sesemann family, the governess Frau Rottenmeier keeps a strict regime of manners and obligations and time schedules. Heidi must go by her "real" name: Adelheid. Only Klara's grandmother recognizes Heidi's insecurity and unhappiness. Under her care, Heidi learns to read and write. In the end Heidi returns to her grandfather and Klara takes unexpected steps, both figuratively and literally, to visit her in the Alps. 
The story alone keeps our undivided attention, but it is magnificently supported by gorgeous photography of the Swiss Alps and 19th century towns and villages (filmed in Quedlingburg, Alberstadt and Altenburg in the former East-German Harz Mountains.) What luck to have been able to cast nine-year-old Anuk Steffen as Heidi in her first film. Naturally, she is in almost every shot: wild and sassy, but still sensitive to others. German actors such as Bruno Ganz, Hannelore Hoger, Maxim Mehmet, Peter Lohmeyer and Hannelore Holger are excellent. Even the 75 goats were personally selected by animal trainer Michael Schweuneke in a casting. You will understand the story, even if you don't understand every word in a mix of German and Swiss-German. So tell your kids to leave their electronic gadgets and internet at home and take them to enjoy a world of love and interaction in the cinema.