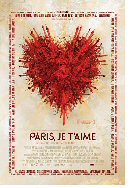 Opening 25 Jan 2007
Directed by: Olivier Assayas
Writing credits: Tristan Carné, Emmanuel Benbihy

If you have just come back from a week in Paris you can be sure to hear: Ohhhhh, Paris! – eyes full of admiration, accompanied by a deep-drawn sigh and a hint of sentimentality.
This film is not sentimental about Paris and avoids the usual postcard image. It is a kaleidoscope of 18 miniature films directed and/or written by 21 star directors, such as Wes Craven, Tom Tykwer, Alfonso Cuarón, Gérard Depardieu (acting as well as directing), Christopher Doyle, and Isabel Coixet to name but a few. The idea for the film was born by director Tristan Carné whilst wandering through the streets of Paris. Directors from around the world tell their story about love in Paris. There is the love and longing of the young mother for her baby as she is rushing off for work to the other side of Paris, the desperate love of an elderly couple, the love of a wounded black man lying on Place des Fetes, a vampire falling in love on the steps of the Quartier de la Madeleine in the dark hours of midnight – and an American single on holiday discovers her love for herself and for Paris.
Each episode is told from a personal viewpoint, staged in different areas of Paris, from the graveyards of Père Lachaise to the red-light district of Pigalle. Some ideas are weird, eccentric, over the top, bloody (as in stabbing or vampire). Many famous names are among the actors/actresses, such as Marianne Faithful, Juliette Binoche, Nick Nolte, Fanny Ardant, Bob Hoskins, Elijah Wood, Gena Rowlands, Gérard Depardieu.
The stories are so varied that there is bound to be something for everyone if you like short films. Even though it is not supposed to be a picture book of Paris, I did enjoy the scenery of this multifaceted city. (Birgit Schrumpf)