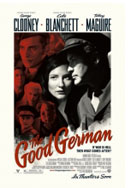 Opening 1 Mar 2007
Directed by: Steven Soderbergh
Writing credits: Paul Attanasio, Joseph Kanon
Principal actors: George Clooney, Tobey Maguire, Cate Blanchett, John Roeder, Jack Thompson
The story is based on Joseph Kanon's book In the Ruins of Berlin, for which Paul Attanasio wrote the screenplay. Director Steven Soderbergh filmed in black and white as well as in the style of the 1940s, skilfully adding original footage, reflecting the atmosphere and mood of the time.
In Berlin 1945, at the end of World War II, the victorious Allied Forces assemble for a Peace Conference. Corporal Tully (Tobey Maguire) is driving war correspondent Jake Geismer (George Clooney, Oscar/Golden Globe for Syriana; Ocean's series) through the ruins of Berlin, cheerfully praising the flourishing Black Market. Jake has been in Berlin before, working for a news agency – and it was then that he fell in love with Lena. It turns out that Lena Brandt (Cate Blanchett, Oscar for The Aviator; Babel, Notes on a Scandal) is now the girlfriend of young Tully, the little dealer and corrupt hustler. Lena tries to hide from Jake, pretending they hardly know each other. She is not the only one telling half-truths or outright lies. Almost all characters act unpredictably, and one can only guess at their shady intentions and motives. Times are uncertain and peace seems still very fragile.
Corporal Tully is found floating in the river in the Russian Zone with a bullet in his chest, 100,000 German Marks cash stashed in his pockets. The officials don't seem to care much. Jake's curiosity is raised, particularly as all leads point to Lena. He wants to revive their love affair but she has turned into a cold, emotionless woman and her queer behaviour is a total mystery. Her room mate Hannelore (Robin Weigert) adds the only light and cheerful touch to this melodramatic thriller.
What is Lena hiding? Her husband, Emil Brandt (Christian Oliver), once worked with Hitler's engineering team developing V2 rocket missiles. The Americans (Beau Bridges as Colonel Muller) as well as the Russians (Ravil Isyanov as General Sikorsky) are desperately looking for the blueprints. Whoever is in possession of such dangerous information has the upper hand in any future dispute (the Cold War already looming on the horizon!). But Brandt only wants to tell the appalling truth of the gruelling conditions when thousands of forced labourers were dying miserably in the underground military factories. He is the "good" (but naïve) German. (Birgit Schrumpf)


Second Opinion

Director Soderbergh always wanted to make a film in this 1940's noir style and said that although this was not very well received in America, he hoped it would do better in Europe. This is a post-war conspiracy film in Berlin which uses the camera and lighting techniques of the time. Jake Geismer (Clooney) a journalist who has lost his way through the war but ends up back in his old stomping grounds, thinks things will look up once he runs into his old flame Lena Brandt (Blanchett) who is coupled with Corporal Tully (Maguire). Tully is an American optimistic entrepreneur who has used the war to his financial gain. He had the best job in the army as supply driver giving free access to the black market trade with the Russians. His sudden death at the hand of the Russians changes the film dramatically. We are all relieved since his character was so annoying and spews nothing but clichés in a loud tone.
What's great about all the one liners in the old films like Casablanca is that the lines were original and later adapted to the film. In The Good German, the lines are not original and unfortunately ruin the film. Soderbergh needs to work on his casting, especially when he is trying a different style of film that demands a lot. Lena's character isn't believable since Blanchett doesn't speak German. Why not get a German actress? There are plenty of them who are talented as well. The style of this movie demands so many different things that it must have been a challenging film to make, but it certainly did not pay off in the end to the modern audience. (Shelly Schoeneshoefer)